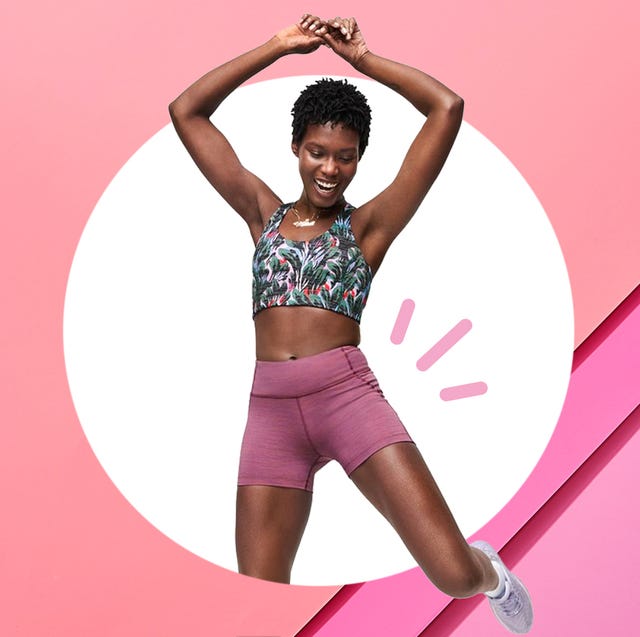 Outdoor Voices/Christine Giordano
Living in leggings 24/7 is becoming a lifestyle choice more and more women are making these days. But when it's hot outside, it's only natural that hems on workout pants start rising the same way they do on dresses, making summer peak season for biker shorts.
Think of them as your leggings' cool BFF, and you can essentially wear them in much the same way…which is to say with everything, whether you're just lounging around the house or actually hopping into the saddle for a ride.
This year, designers have really focused on sweat-wicking properties, anti-chafing design elements, and body contouring styles to create pieces that are both fun and functional. The best cycling shorts, like the dozen on this list below, which is compiled of pairs that both editors and reviewers love, can be worn for workouts on your exercise bike, but also to run errands, or in lieu of leggings when you're working out.
When you're not exercising, layer a classic black short under a summer dress, pair yours with a cropped top and denim jacket, or try with an oversized hoodie. Biker shorts are so versatile and that's why we love them. Here are the ones worth adding to your activewear collection this year.
Advertisement – Continue Reading Below
1
Fast And Free Short 10″ Non-Reflective
Lululemon
lululemon.com
$68.00
With a 10-inch inseam these high-waisted shorts provide an ulta-lightweight, barely there feel (but still plenty of coverage) and will allow you to take a hike like a champ.
Reviewer Rave: "Perfection.  I love these shorts.  Perfect WFH AND Bike wear ❤️❤️❤️"
2
Tie-Dye Seamless Bike Shorts
Tory Burch
toryburch.com
$68.00
This throwback print has officially made a comeback, but the 2.0 version of tie-dye is even better in more subdued hues like these bike shorts. What's more: The seamless knit creates support, compression, and anti-chafe so that you can ride in style.
Reviewer Rave:  "These turned out to be great. I have been looking for a fun bike short with the right material and length for a while and these fit the bill! The pattern is amazing in person. The small TB symbol is pretty discrete on the bottom of the leg. Material is not too thick, not too thin, and extremely comfortable. I am 5'3″ and the length just feels long enough."
3
High Waist Bike Shorts
Girlfriend Collective
nordstrom.com
$36.00
These bike shorts, which come in up to a size 3X, are made from recycled bottles, so you'll feel great knowing you've helped mother nature all while getting in your miles.
Reviewer Rave: "Perfect length, light compression, stays put."
4
Ultimate Stash Pocket 7″ Short
Athleta
athleta.gap.com
$59.00
These cycling shorts are made of recycled nylon that's woven to wick sweat and be ultra breathable. What more could you ask for on sticky summer days?
Reviewer Rave: "As the temps start to rise and spring is warming things up, these are my go-to shorts! Super comfy, I wear them for everything from yoga to strength training to cycling and even outdoor walks. I wish I had 10 pairs!"
5
High Rise Bike Short in Leopard
Clip in at home with these high-waisted animal print bike shorts or pair with a black hoodie for a casual weekend outfit. 
Reviewer Rave: "These bike shorts are so cute! Elevated any outfit—I wear both in the gym and out."
6
TechSweat Flex Short
Outdoor Voices
outdoorvoices.com
$45.00
Outdoor Voices's 3.5-in. inseam flex short is the answer to summer cycling. They're made of lightweight, breathable fabric and the perfect length to show off all the hard work you've put in.
Reviewer Rave: "I love TechSweat! I wear these shorts for all sweaty workouts! Fantastic for running and spinning because they stay in place and don't ride up. Highly recommend!"
7
Pro Shorts 8″
You don't need to worry about anything but the ride with these compression-fit bikers.  They'll provide you with maximum support and ultimate breathability. 
Reviewer Rave: "Well fitting shorts! I have thick thighs and these did not roll up on me whatsoever. The waist band does tend to roll down but it's no biggie imo."
8
High Rise Biker Short In Cloud Compression
Carbon38
carbon38.com
$68.00
The smoothing and contouring effect of Carbon38's high-waisted biker shorts will have you wanting to wear these even when you're not working out.
Reviewer Rave:  "SO comfy, perfect amount of compression. LOVE these."
9
Authentic Bike Shorts
Champion
walmart.com
$18.00
You can never go wrong with a classic, and when it comes to cycling shorts, they don't get more timeless than a pair from a heritage brand like Champion. 
Reviewer Rave:  "Probably one of the best quality biker shorts I have eve purchased. They are not see through. And the quality and details are just so amazing, especially for the price!"
10
High-Waisted Elevate Compression Bermudas
Old Navy
oldnavy.gap.com
$15.00
Great performance is a must when hitting your bike for a power ride.  Moisture-wicking technology, flat-lock seams that prevent chafing, and four-way stretch is the functionality trifecta.
Reviewer Rave: "These are the most comfortable shorts, love them for everything!"
11
adiColor Biker Shorts
adidas Originals
zappos.com
$34.95
The sweat-absorbing fabric will keep you cool and dry for all-day performance and comfort. On your rest days, throw on an oversized T-shirt and casual sneakers.
Reviewer Rave: "This product is exceptionally comfortable and excellent sizing. The length of the short is very good. Best shorts I've purchased!"
12
Biker Shorts
Joyspels
amazon.com
$18.88
The seamless design of these bikers will contour to your body and give your freedom to move.
Reviewer Rave: "I LOVE THESE SHORTS! Let me just say again, I love these shorts. I followed the size chart and these fit perfect. The tummy control is on point, the length is perfect hitting a little more than mid thigh, and they don't roll up or down during workouts. I plan to buy every color and live comfortably in my athletic wear this summer."
This content is created and maintained by a third party, and imported onto this page to help users provide their email addresses. You may be able to find more information about this and similar content at piano.io
This commenting section is created and maintained by a third party, and imported onto this page. You may be able to find more information on their web site.
Advertisement – Continue Reading Below