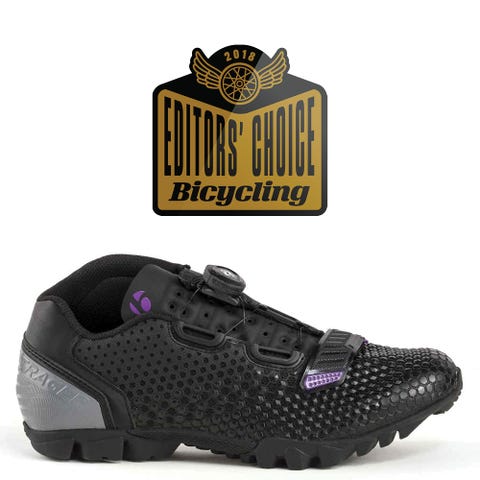 Sleek Enduro
Bontrager Tario
A higher cut on this women's mountain shoe offers more protection.
$180 | Trek
Buy Now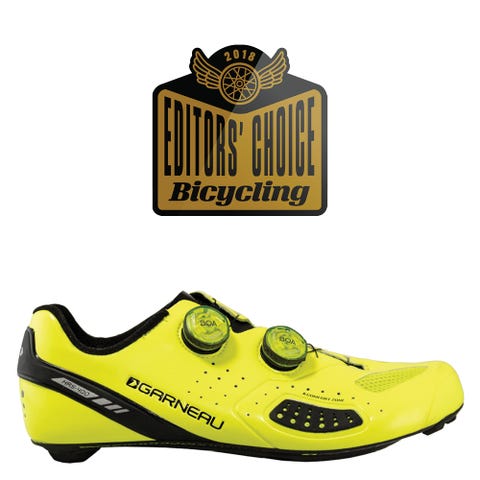 Fits B to D+ Feet
Mavic Crossmax Elite
This men's mountain shoe has a wider heel cup than most in its category.
$370 | Backcountry
Buy Now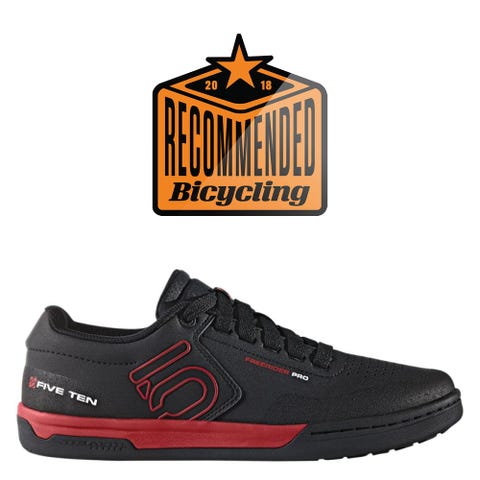 Stiff and Sticky
5.10 Freerider Pro
This flat kick sticks to your pedals like glue and looks good off the bike.
$150 | REI
Buy Now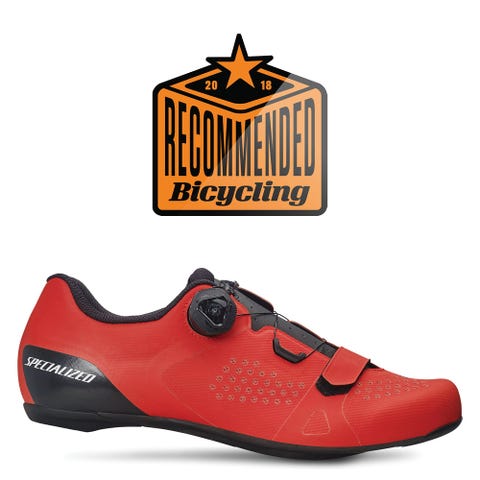 Rubber Heel
Specialized Torch 2.0
A men's road shoe that's comfortable enough to walk in.
$220 | Specialized
Buy Now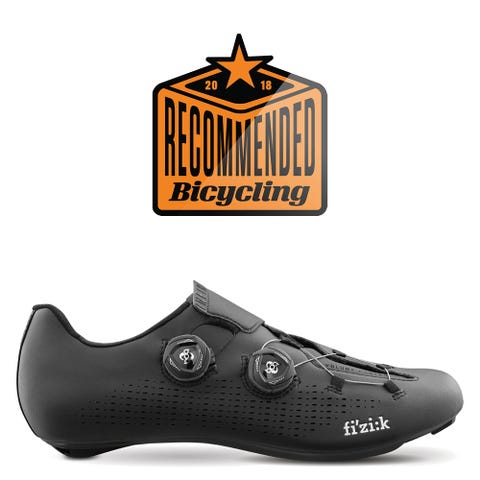 Vents on the Sole
Fizik Infinito R1
A light, stiff, and well-ventilated men's road shoe.
$400 | Amazon
Buy Now
Advertisement – Continue Reading Below
As one of three contact points with your bike—and the one that is responsible for transferring watts from your legs to the drivetrain—your shoes have a huge impact on the quality of every ride. There's a reason #NewShoeWatts is a thing. A new, properly fitting pair of kicks won't just make you feel faster, there's a chance they might even make you ride faster.
Types of Shoes
There's a shoe for every riding niche, but this roundup will focus on road- and mountain-specific shoes. Of the two, mountain shoes are more versatile–mountain shoes make better road shoes than road shoes make mountain shoes–thanks to rubber soles with grippy lugs that make them easier to ride in. In fact, mountain shoes are good for pretty much everything. But road shoes are usually lighter and offer mounting points for larger, three-bolt road cleats.
Road
Road-shoe soles are typically stiff (for maximizing pedaling efficiency) and smooth (no tread equals lighter weight). Many road shoes—mostly higher-end models—utilize a triangular, three-bolt cleat-mounting pattern that is compatible with the most common road-pedal systems—Look, imitation Look, and Shimano. Some road shoes offer a four-bolt sole compatible with Speedplay pedals. Low- to midrange road shoes often have a two-bolt pattern, in addition to a three-bolt pattern, to also accommodate mountain bike–style cleats. This allows the rider to use dual-sided pedals (easier to step into) as well as pedals that have a platform on one side (for shorter rides in regular shoes) and a clipless mechanism on the other.
Uppers are light and made from soft and supple leather or synthetic materials that provide a comfortable and snug fit. They can have nylon mesh to keep your feet cool. A stiff, reinforced heel cup will stop your foot from slipping while pedaling. Knit uppers are also starting to become popular for their comfortable fit and ventilation (check out the Giro Empire V70 Knit below).
Mountain
Mountain shoes come in two styles: clipless and flat. Compared with road shoes, clipless mountain shoes have grippy lugs and are built exclusively to accept two-bolt cleats. While top-end mountain shoes can have carbon soles and be every bit as stiff as a road-racing shoe, many clipless mountain bike shoes have a bit of toe flex to make hiking easier. Mountain shoes usually use heavier-duty upper materials to withstand more rugged conditions—dirt, mud, rocks, roots—and often have armoring on toes and heels to reduce the pain of rock strikes and to add durability.
Flat shoes don't have clipless cleat mounts, and like skate shoes have a sticky rubber sole. You ride them with platform pedals, and the absence of cleats means you can get on and off easier—good for stop-and-go commuting or bailing on downhill runs. And since you're not locked in, the feeling is freer and more surf-like. You'll pedal differently with a flat pedal because you can't pull up on them. Brands like 5.10 and Vibram make extra-grippy soles that better stick to pedals.
Stiffness Is Important, but It's Not Everything
A very stiff sole will make power transfer feel more efficient, but the lack of give can cause hot spots and discomfort. Nylon is used in lower-cost shoes and has more flex, which may feel less efficient, but may be more comfortable, especially on bumpier terrain. Midrange shoes include some carbon-composite-enhanced materials, and the stiffest, high-end soles will be entirely carbon. Because carbon is so stiff, less can be used and the shoe will also be lighter. Most companies will agree that stiffness is important but only when the fit is correct.
Advertisement – Continue Reading Below
Choose the Right Closure
Laces: After being spotted in the professional road-racing peloton, the trend for lace-up uppers on the highest-end road shoes has grown. The retro look has its fans, plus laces are light. Laces are also found on entry-level shoes and almost all flat-pedal shoes. Laces provide a simple, effective, and easy-to-repair closure. Another benefit to a laced shoe is that it tends to be very accommodating to unique foot shapes. The only downside: They're difficult to fine-tune midride.
Hook and Loop: Also known as "Velcro," this style of closure is found on shoes at all prices. It's light, easy to adjust, easy to fine-tune midride, and can be placed at multiple points to provide zonal snugness. Downside: Over time, hook and loop can loose its grip and get clogged with mud.
Dial: Boa is the king of dial closures, and you'll find its system on mid- to high-end shoes from many companies. There are other dial-closure systems besides Boa: Atop and Northwave's SLW2 system. Dial closures usually offer the most closing force, and are micro-adjustable, weather- and mud-resistant, secure when locked in place, and easy to adjust on the fly. They can get jammed, or damaged, rendering them unusable (though they are often repairable or replaceable).
---
Bontrager Tario
A protective enduro shoe with a sleek profile
Type: Women's mountain
Price: $180 Buy Now More Images
A fish-scale-like material over the front half of the upper, called GnarGuard, helps protect your feet on rowdier rides. It also gives you the sense that you're wearing a light layer of armor over your feet—while remaining comfortable and supple. A higher cut protects your ankles, the sacrifice being a little less breathability. The Boa dial is secure, the toe box is pleasantly roomy, and the shoe hugs the foot well. It's also attractive, with a relatively sleek profile for an enduro shoe.
---
Mavic Crossmax Elite
A wide heel cup and sole with a little flex make for a comfortable fit
Type: Men's mountain
Price: $160 Buy Now More Images
Advertisement – Continue Reading Below
This shoe uses two types of closure systems for an easy and secure fit: a Boa-style wire adjustor is located closest to the ankle, while two of Mavic's Velcro straps cinch the shoe toward the toe. The portion of the shoe around the ankle is wider than many others in its category—one of our testers had to really cinch the Boa down to get a snug fit. Thanks to a carbon sole that's stiff without being painfully so, and grippy rubber treads, the Crossmax Elite feels great when pedaling and can handle some hike-a-bike sections, too.
---
Northwave Extreme RR
A light, stiff shoe with a carbon sole and cable-closure system
Type: Men's road
Price: $400 Learn More More Images
Worn by current European road-race champion, Alexander Kristoff, the Extreme RR is Northwave's lightest, stiffest road shoe to date. It has a 100 percent unidirectional carbon sole and an upper that is comprised of a soft, thin, single piece of synthetic material that wraps close to the contours of the foot (Northwave calls it X-Frame). The cable-closure system has a single dial with unique wire routing to help reduce pressure points and give a snug, comfortable fit that racers and fast roadies will love.
---
Sidi Dominator 7
A well-fitting, off-road shoe that's built to last
Type: Men's mountain
Price: $250 Buy Now More Images
Borrowing features from Sidi's higher-end models, and combining them with less-expensive materials, the 7 meets the demands of trail riding and adventure excursions: a stiff sole with plastic tread blocks, a water-repellent synthetic leather upper (that Sidi claims is scuff-resistant), and a micro-adjustment system to dial in fit. Suitable for trail and adventure riding, the shoes weigh a little more than comparable models, but you get a shoe that's built to last.
---
Sidi Genius 7 Mega Carbon
All the technology of Sidi's regular-width shoes for riders with wider feet
Type: Men's road
Price: $250 Buy Now More Images
Advertisement – Continue Reading Below
Thanks to a last that is 4mm wider across the ball of the foot, a higher instep, and a wider heel cup, Sidi's Mega version of its regular-width shoes fit riders with size EE to EEE feet. They are available in sizes up to 52—to not only accommodate wider feet but also longer feet. Most shoe companies don't go beyond a 48 or 49, so Sidi is making sure it has a wide range of sizes. It has a carbon-nylon composite sole and a multi-strap closure to let the rider adjust tension across different areas of the foot for a great fit. A synthetic leather upper repels water, resists abrasions, and is softer and stronger than real leather.
---
Giro Privateer Lace
A light and stiff shoe with laces that make you smile
Type: Men's mountain
Price: $130 More Images
When laces returned to cycling shoes in a moment of retro-hipster glory, we nodded and thought they were fun and quirky. And then we rode them and realized—goddamn!—they can make a shoe fit better. And they're light. And few pieces of bike gear can make you smile like colorful shoelaces. But they mostly came on expensive shoes like the Empire Slx. With the Privateer, Giro brings laces to a modestly priced mountain bike shoe. For $130, you get lightweight riding footwear that is stiff enough for all-day hammerfests, and has extra protection around the heel and toes, big grippy treads, and extra rubber underfoot to keep you from slipping on your pedal. And yes, you also get super-stylish and fit-enhancing laces.
---
5.10 Freerider Pro
The right amount of stiffness and super-sticky soles
Type: Men's mountain
Price: $150 Buy Men's Buy Women's More Images
Advertisement – Continue Reading Below
Ever noticed all those people riding flat pedals—the ones in bike parks, downhill races, even on your local trails? These shoes (and earlier versions of them) helped make that happen. Though 5.10 didn't invent bike shoes for riding with flat pedals, with this shoe it pretty much perfected the category. The Freerider Pro is light and comfortable, has the right amount of stiffness (good for riding, okay for walking), and sticks to your pedals as if the sole were made of glue. The latest version is well ventilated, dries quickly, and has extra protection on the toe as well as some modest protection around the heel. Bonus: It looks almost like a street shoe, so your significant other won't cringe when you wear yours to dinner. And at $150, they're pretty reasonably priced.
---
Shimano AM-7
A downhill shoe that's stiff enough for XC rides
Type: Men's mountain
Price: $130 Buy Now More Images
This new shoe from Shimano is made for downhill and enduro racing, but it's stiff enough that it works well for XC-style rides, too—if you can tolerate a little extra weight to gain comfort and grippiness when walking or hiking on trails. A neoprene ankle cuff—though it looks kinda weird—helps keep dirt and rocks from infiltrating your shoe. The extra-large mesh vents on the side help keep your feet cool, and there's solid protection around your heel and the front and top of your toes. A high strap helps keep your foot locked down and can keep your laces from flapping in the breeze.
---
Giro Code Techlace
Laces, Velcro, and a Boa dial combine for a great fit and easy adjustment
Type: Men's road
Price: $300 Buy Now
Advertisement – Continue Reading Below
With the Empire and some other models, Giro went all in on laces. There's a lot of appeal: low weight, retro style, and a near-custom fit without hot spots. And they're easy to replace or swap out for more colorful options. But laces can be harder than Velcro-style or Boa cords to adjust on the fly. With the Techlace system, Giro is hedging its bets. You get a lot of the benefits, but by attaching the laces to Velcro straps and adding a Boa closure, Giro makes it easier to adjust midride. On these Codes, the Boa dial offers 1mm of adjustment to fine-tune pressure. The shoe weight remains low, and stiffness high, so you can race in them, but there's enough traction and comfort for big adventures and casual trail rides. The upper is soft and comfortable, but repeated brushes with rocks can shred it, so consider where and how you'll ride them. The shoes run narrow and tight, so it's best to go up a half size (at least) from what you normally wear.
---
Bontrager Sonic
A Boa L6 system lets you dial in fit, and a roomy toe box lets you wiggle your toes
Type: Women's Road
Price: $125 Buy Now More Images
Snugging down the Velcro strap across the top and twisting the Boa L6 dial on the Sonic women's road shoe—tiny turns at a time until ideal snugness is achieved around the midfoot—is not unlike the oddly satisfying feeling of having your blood pressure taken (there's just something about that cuff slowly conforming to your arm). Up front, the inForm Race last leaves plenty of room for toes to wiggle without feeling squeezed, and the PowerTruss sole is said to be about halfway between stiff and comfortable. The Sonic is two- and three-bolt cleat compatible and available in eight sizes. As for your blood pressure, a ride in these perforated, purple beauties will no doubt keep your numbers in check.
---
Specialized Torch 2.0
A comfortable fit and medium-stiff sole with a rubber heel ideal for riding and walking
Type: Men's road
Price: $220 Learn More More Images
Advertisement – Continue Reading Below
Comfort was the first word that came to mind when one of our testers slipped into the Torch 2.0 for the first time. Padding around the heel is soft and holds the foot in position when riding, plus there's plenty of room for your toes. The sole feels stiff but still has some flex, and the rubber heel doesn't slip when walking. The Boa dial creates a snug and supple feel around the foot. The mesh construction used for the upper is comfortable and cool even on some hotter days. The wire closure wraps around hooks and can come off when you loosen the fit, so make sure to lace them correctly before you put them on again.
---
Fizik Infinito R1
The sole vents let you feel air flowing under your feet
Type: Men's Road
Price: $400 Buy Now
I want to call out my favorite thing about this shoe: The sole vents actually work. It's one thing to claim to have sole vents—which a lot of shoes do—and another for those vents to work, which the R1's do. I could feel air flowing in under my feet. As a profuse sweater, I was immediately smitten (though these vents might be a problem on cold and wet days). As far as the rest of the shoe is concerned, it's pretty standard high-end shoe fare: light and really stiff. The Boa closures were more comfortable than most, and the forefoot volume adjust system lets this shoe fit a wide range of foot shapes.
---
Giro Empire VR70 Knit
Fantastically comfortable and conforms better than most
Type: Men's road
Price: $250 Buy Now
With a reinforced knit upper and laces, the Empire VR70 Knit conforms to feet of any shape better than most shoes. Heel retention isn't great, but the shoe is fantastically comfortable: It's like wearing a sock with a carbon sole. Though we expected crazy-airy ventilation, it instead breathed much like a normal shoe—and we were glad to see the knit upper largely seems to resist absorbing water and sweat. The ankle cuff keeps out rocks and sand, and the TPU skeleton protects the knitting against abrasion: So far they've survived a few scrapes and crashes with little damage.
---
Louis Garneau Course Air Lite II
High-end features to fit B to D+ feet
Type: Men's road
Price: $370 Buy Now
Advertisement – Continue Reading Below
The Course Air Lite II shoes offer weight, features, and performance comparable with the highest-end road shoes, but cost a bit less. They're not exactly a value, but they're at least a better deal. The shoe is pretty standard fare for high-end road shoes these days: two Boa dials, thin and stiff carbon sole, insoles with adjustable arch support, and a slotted cleat mount for more fore/aft positioning range—though we do wish the heel retention was a bit better. The LG's standout feature is a window on the outside of the shoe that's covered with a flexible material, which allows the shoe to accommodate B to D+ feet. Take note: These shoes fit slightly large.
---
Specialized 2FO Cliplite Lace
A performance XC kick disguised as a skate shoe
Type: Men's mountain
Price: $120 Buy Now
Beneath the 2FO Cliplite's skate-shoe styling is a surprisingly light mountain bike shoe. At around 370 grams per shoe, the $120 Cliplites weigh as much as the $500 Sidi Drakos. These shoes have an unexpectedly tight fit, and are surprisingly stiff as well, so they feel more like a performance XC shoe than you would guess. They hike pretty well too, and generous armoring protects your feet. Something to point out: They're a bit stiff around the ankle and can dig in to your skin. Long cleat-adjustment slots let you position your cleats as far back on the shoe as you wish.
---
Specialized S-Works 7
Comfortable, supportive, and stiff
Type: Men's Road
Price: $400 Buy Now
Specialized has been making some of the stiffest and lightest road shoes for a while now. So the big story with the 7 isn't that it's stiff and light, it's that Specialized has kept those qualities and made huge gains in comfort. "Slipper" isn't the right description: Your foot snaps into this shoe like Legos connecting, and the interior is smooth and comfortable. The only comfort complaint: The shoe doesn't vent very well. The upper walks the fine balance between support and suppleness as well as we've experienced, while the heel cup locks your foot solidly without causing discomfort or blistering. The replaceable, machined aluminum Boa dials are the kind of touch a $400 shoe deserves.