The opportunity to quickly develop women's cycling uptake has been demonstrated in a new study run on behalf of the Women's Sport Trust.
Conducted by Neilson Sports, the "many hundred of thousands" strong study showed that running and cycling top the league of sports that women around the world enjoy participating in most.
Of the drivers for participation, women most commonly cited general health perks as their primary reason for wanting to exercise, though the social element and the rewards also ranked highly. Meanwhile, men tended to enjoy the competitive element over the emotional benefits.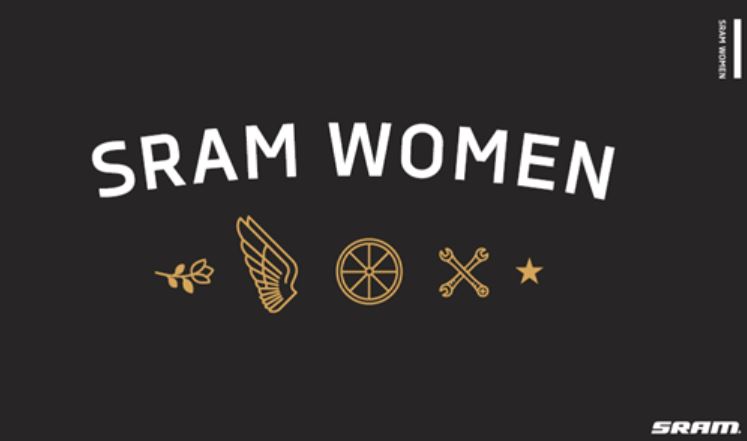 Further proving the benefits of investment in women's cycling events, the primary reason for choosing not to participate is that certain sports are deemed to be out of the comfort zone of many women. Embarrassment and expense followed. For this reason, SRAM's Women's events have seemingly seen great success.
Outlining the importance of investment in youth sports, the study found that women who participated in sports at school are three times more likely to be retain that interest throughout their lives.
In the UK, 41% of women aged 16 to 29 reported not participating in sports at school. By age 50 to 69 that figure jumps to 70%.
Sponsorship
59% of the UK population (around 24 million) have an "active interest" in women's sport.
Despite this, the study draws attention to the disparity between men's and women's sponsorship, utilising the London 2012 Games as an example. Only two female athletes were used in UK advertising campaigns, vastly below the male representation.
The opportunity, according to the Women's Sport Trust, is growing rapidly. Following notable successes at major events and increased broadcasting, women are engaging with sport in increasing numbers.
The numbers are in fact growing. Compared to 2013, in 2017 there were reportedly 47% more sponsorship deals in women's sport with a 38% increase in deal size.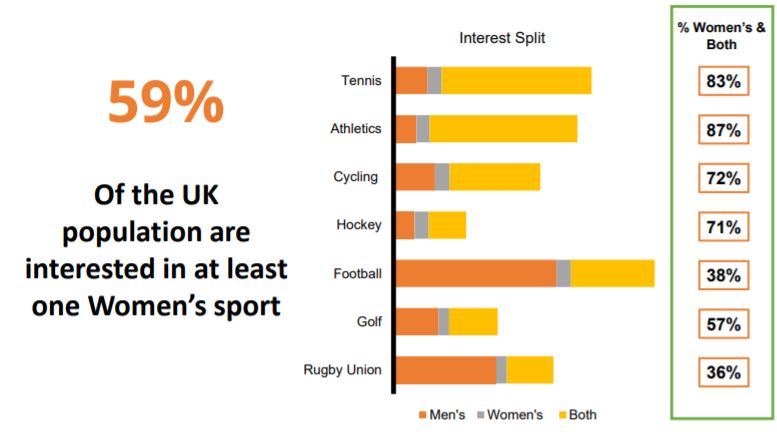 According to the trust, the data shows that the sponsorship proposition has grown, with 72% of cycling fans likely to report a keen interest in women's coverage. For football, the enthusiasm was nearly half at just 38%.
As far as traceable followers of sport goes, 51% of women and 49% of men are said to be engaged.
Four in ten would consider attending a live women's event, according to the data. Meanwhile, 42% said they would be likely to tune in to free TV coverage.
Women's Sport Trust Joint Chief Executive, Jo Bostock commented: "The leaders from major brands and broadcasters that we speak to have been telling us two main things. Firstly, that they are increasingly interested in women's sport, but secondly, they need more data to help them make a case for investment.
"The insights from Nielsen Sports clearly spell out the scope and scale of the opportunity. And you only have to look to the phenomenal example of the Vitality Hockey World Cup to see what's possible when a top sport like Hockey puts on a great show and is backed by a committed brand like Vitality.  We anticipate many more progressive brands moving from curious interest in women's sport, to active investment in 2018-19."
Back in June of 2016, a detailed report from Strava gave the bike industry more food for thought, going into great detail utilising its own user feedback and further outlining the bike industry's scope to develop grassroots women's cycling.
CIN Comments
comments