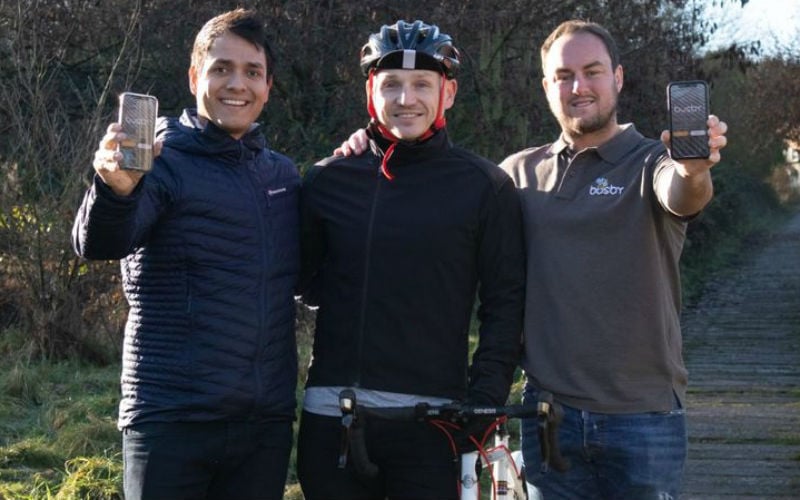 When Alexandra Callaghan went out for a quiet ride, she couldn't imagine the circumstances in which she would next see her husband. 
"I was riding down a usually quiet country lane, when a car almost hit me," she says. "I had to swerve to avoid being hit and ended up down a steep embankment.  
"I was unconscious for some time, bike completely snapped and a few broken bones." 
Thankfully she had her phone with her and had downloaded the safety app Busby after someone mentioned it to her at work. 
"After nearly 15 minutes my husband turned up and I couldn't work out how: I thought I was imagining it from a bang on the head!" she recounts. "Busby had informed him I'd been in an accident and sent my exact location. 
"My injuries where pretty bad and help was able to get to me, even though I was unconscious in a hard–to–find location. Every cyclist should download this app." 
Busby, developed by K-Safe and based in Liverpool, is trusted by thousands of cyclists and has monitored several hundred thousand journey miles since its launch in November 2019. 
The inspiration for the app came when co-founder and development director Barry Green was involved in a serious cycling accident. It uses sensors in a mobile phone to automatically detect a crash or a fall, geolocate the user and alert their emergency contacts.  
Available for free download on any iOS or Android smartphones, it is used by cyclists, walkers, horse riders, runners and road users to predict, prevent, detect and analyse road accidents. It does not collect or store the riders' data and recently received six-figure seed funding. 
Now active in 32 countries across six continents, the co-founders say it has already saved three lives.  
"I've been overwhelmed with the feedback and praise for Busby from within the cycling and wider community," said Kirk Ryan, Busby co-founder and technical director. 
"Our recent investment will allow us to get Busby out to even more users than ever before and accelerate our ambitious plans for future developments that will also benefit the outdoor community." 
Busby had early support from St. John Ambulance while K-Safe partnered with location tech firm What3Words to allow an injured user's location to be pinpointed faster and more accurately.  
If the injured user is still conscious, they will also see the St. Johns Ambulance safety checklist, to ensure they can stay safe while help is on the way. 
The app, which has been voted Cycling Weekly's 'Best cycling safety app', recently launched 'Busby 2.0' with improved features to protect and support vulnerable road users. 
Patent-pending features include Busby Flare, which allows users to send out an SOS message to surrounding users within a five-mile radius and also connects them to nearby bike stores; RoadRadar, a separate app which allows vehicle drivers to know as and when a Busby vulnerable road user is in a dangerous proximity; and GroupRide, which allows users to set a safety radius around everyone in their group and receive a notification if someone falls behind. 
The firm says it is in advanced talks with some of the largest HGV and insurance companies in the country to adopt RoadRadar. 
'Busby 2.0' also rewards users for being safe by offering coins per mile which they can spend on in-app discounts or enter monthly competitions.  
"Busby 2.0 builds upon what was already the leading safety app for cyclists and introduces new innovative safety features to a wider variety of activities," added Ryan. "What's more, you are rewarded for using it.  
"My family are happy as they know that I'm OK, and I'm happy as I can earn exclusive discounts and win gear just by doing what I love." 
Busby is offering key workers and NHS staff the ability to upgrade to Busby Premium for free for the next six months.  
Busby Premium offers more features such as greater partner discounts and the addition of more emergency contacts if they have an incident. To take advantage they should email [email protected]. 
Busby is available to download for free at: www.linktr.ee/busbyio or www.k-safe.com or search for the app in your app store.