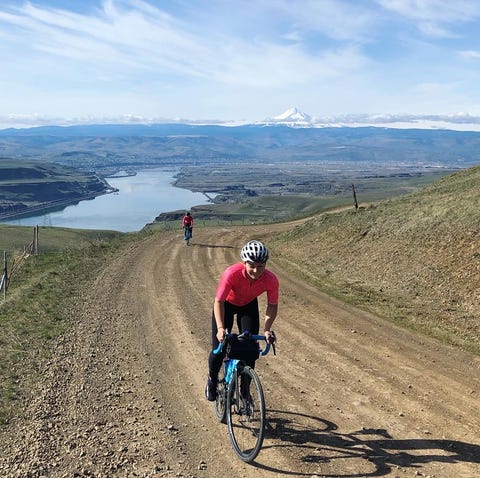 Pearl Izumi/Mallory Miller
This month, Pearl Izumi is hosting its second annual "Tour of Inspiration," in which the cycling apparel company shares a series of awesome routes to encourage cyclists across the country to get out and explore new roads near them. And of course, there are chances to win prizes.
Pearl Izumi teamed up with the Ride Spot app from PeopleForBikes to help create and share 21 routes—some of which were created by Pearl Izumi brand ambassadors. The ambassadors will also share photos from their route on Ride Spot, so you can get a sense of what to expect. The routes will be unveiled in batches on the Pearl Izumi blog every Sunday.
The first six routes, which are available now, range from more beginner-friendly rides that are less than 30 miles and feature little climbing, to 50-mile rides with well over 6,000 feet of elevation gain.
[Want to fly up hills? Climb! gives you the workouts and mental strategies to conquer your nearest peak.]
According to a company representative, several of the routes will be designated as "challenges," and anyone who completes one will win a prize package containing PeopleForBikes and Pearl Izumi gear. Complete them at any pace and on any bike—you just need to record your ride with the Ride Spot app. You'll have two weeks to complete any challenge.
Participants will submit their email address upon joining one of the challenges. Once you finish the challenge and after the two-week period is over, you'll be sent an email request to submit your address so you can receive your prize.
The first six routes, detailed below, have already been posted. You'll be able to officially sign up for the challenges starting this Sunday.
Stage 1: Denver, Colorado
Stage 2: Harriman, New York
Stage 3: Portland, Oregon
Stage 4: San Antonio, Texas
Stage 5: Silverthorne, Colorado
Stage 6: Las Vegas, Nevada
If you're not looking to complete any challenges, these routes will be well worth checking out even beyond July 27. As the blog post rightly puts it: "But really, if you get out for a great ride, you've won already."
This content is created and maintained by a third party, and imported onto this page to help users provide their email addresses. You may be able to find more information about this and similar content at piano.io
This commenting section is created and maintained by a third party, and imported onto this page. You may be able to find more information on their web site.