21:09
Marathon: Favourite to win the men's marathon, which starts in just under two hours, is Eliud Kipchoge, who is bidding to become the first person in more than 40 years to defend the title. Speaking earlier this week he didn't sound too excited to be dealing with the heat of Sapporo though as he wisely said "all of us will be in the same frying pan".
20:39
The time has come for the best-of-the-Olympics listicles. Here are Tumaini Carayol's:
So, what has he missed out?
20:23
PA Media have been hanging out at Heathrow airport while a plane full of Olympic athletes was touching down:
Team GB medal winners have been reunited with their loved ones in emotional scenes as they returned home from the Olympic Games today.

Canoeist Liam Heath and pole vaulter Holly Bradshaw were among those to touch down at Heathrow Airport on Saturday evening sporting medals following their success at Tokyo 2020.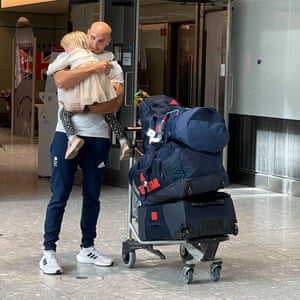 Heath, who won bronze in the K1 200m, was reunited with his three-year-old daughter Sarah, who ran towards him as he arrived at Terminal Five. Other family members waved a poster that said "Welcome Back Daddy" as the Olympians were greeted with applause.
Heath, 36, from Guildford, told the PA news agency: "She [Sarah] looks so grown up. She grows every day but you don't really see it when you're with her 24/7. I think it's the longest time I've actually been away from Sarah since she was born – nearing on a month. She's a proper little person and I absolutely adore her. It was absolutely incredible to come back home and see her running towards me."

Heath is Team GB's most successful canoeist – with four Olympic medals won so far, including the bronze in Tokyo. His wife Emily said she was looking forward to much-needed family time with her husband and daughter. "You get used to them being gone all the time but at the same time you're longing for their return and literally counting down the days," she said. "We just made sure the closest lot were at the airport to greet him and then tomorrow we'll just see what he wants to do. It's important to have just a bit of time for the three of us."
Bradshaw, who won bronze in the pole vault, described Tokyo 2020 as "special" despite a lack of spectators due to the coronavirus pandemic.

She told PA: "I think every Olympics is different anyway but this has felt very different in that it's all about the performance and not about going out and exploring or anything like that. You just trained and came home and you had to be super on it with hygiene. But I think it's been a really, really good Games and Japan did a really good job to make it feel special even though there was no one there."

Meanwhile, sailor Dylan Fletcher was greeted by cheers from a crowd of family members who waved Union flags and held up balloons. The 33-year-old won a gold medal in the men's 49er alongside teammate Stuart Bithell. Fletcher's mother Jane told PA she had been "shaking" with anticipation ever since his victory.

She said: "We didn't stop shaking from 5.30 on Tuesday morning all the way through to now. And I think I'm still shaking now and it's all going to rev up again. I'm so proud for them and of them. They're phenomenal sailors and phenomenal athletes. Just fantastic."

Fletcher returns home to busy wedding planning, as he and his fiancee Charlotte are set to get married in 20 days. His mother said: "There's a lot to do. They're going to come and chill out with us for a little while for a few days. No doubt we'll have some champagne and I think there will be a big party on that wedding day when we get there. It will be wonderful."
19:40
Football: There's one British gold medal that hasn't helped the nation rise up the medal table: the one taken home by the coach who took Canada to women's football glory. Suzanne Wrack has the story of Bev Priestman:
A deadly serious Canada manager Bev Priestman admitted she knew her team would go on to clinch Olympic gold after their quarter-final penalty defeat of Brazil. The route ahead meant a semi-final with a team they had not beaten in 20 years, in the USA, and then likely a final against the tournament's in-form team, Sweden, but she knew. And you didn't doubt her.

"I'm so so happy to get that gold," said the 35-year-old, with the medal dangling round her neck. "I knew it was coming. Probably from the Brazil game onwards I knew we had it if the players turned up and they believed, which they did."

Priestman's unwavering belief in the abilities of her players and the gameplan of the team has, without question, filtered into the players themselves.
Much more here:
19:17
Marathon: Coming up later today/tomorrow (depending on where you live) is the men's marathon. At the age of 40 Chris Thompson will be one of three British competitors there and clinging to the hope of adding a second major championship medal to the European Championship 10,000m silver he won in Barcelona in 2010.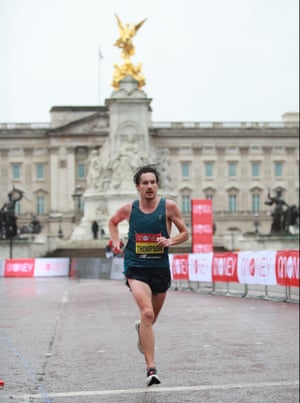 Earlier this year he "nearly lost my hand" after it was "completely sliced open" when it somehow ended up under the wheel of a removal van. The Olympic trials were nine weeks away. In between his son, Theo, was born. He won the trial in 2hrs 10min 50sec, 40 seconds inside the qualifying time and battering his personal best. He has also overcome potentially career-ending achilles injury, a broken back and, er, a nasty dog bite. "The woman came up to me saying, 'Don't worry, he doesn't have rabies.' I said, 'I wasn't worried about that, but I am now.'"
Updated

18:37

Barney Ronay
Football: As the final whistle blew at the end of 120 airless minutes, after six games in 17 days, and at the end of an 11-month season with barely a caesura of rest, the players of Brazil and Spain collapsed in contrasting states of delirium.
For Brazil's men's Olympic football team this was a night that ended in career-high joy for many of those present. The gold medal was secured via an extra-time goal from the vibrant, game-changing Malcom, who plays his football in the Russian Olympic Committee Premier League with Zenit Saint Petersburg.
Richarlison, who missed a penalty and assorted other chances, fell face down close to the centre circle. A huddle of coaches entwined their arms and bounced across the turf like a vast human beach ball. Flags were brandished as the gathered Brazilian media launched into chants and songs.
Much more here:
18:31
Water polo: I'm wagering that there hasn't been a great deal of water polo coverage in today's blog, and that is a situation that needs to be remedied. Because history will be made in the pool tomorrow, when unfancied outsiders Greece win their first ever water polo medal. But what colour will it be? They face defending champions Serbia in the men's final and will be underdogs once again, though it doesn't seem to bother them.
The Greeks are undefeated in Tokyo, though the only match they drew, in the preliminary round, was against the Italy side that Serbia comfortably beat in the quarter-finals. Since then they have routed South Africa 28-5, thrashed the USA 14-5, trounced Montenegro 10-4 and, in the semi-finals, beat nine-time champions and 12-time finalists Hungary 10-6, leading at the end of every quarter. The Greek coach, Theodoros Vlachos, has promised that his team will "fight like crazy" in the gold medal match, which is due to start at 8.30am local time.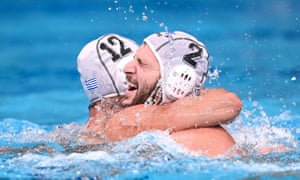 "We beat Hungary in the semi-finals with self-sacrifice, heart, tactics, excellent defence, great goals and everything that a final needs because the game was a final for us. I have been waiting for years to guide the national team in the final. I'm very grateful and proud that we did this for Greece. We cannot stop here. We have to fight like crazy in the final. We want the gold, to raise the flag high, and to hear our anthem at the end. We will not waste this moment, and we will give our best."
18:02
Sayōnara from me for the final time in these Olympics, so thanks for your time and your company over the past couple of weeks. I'm off to screw my football head back on and will leave you in the very capable hands of Simon Burnton.
17:52
Athletics: American sprinter Allyson Felix met and defied every lofty expectation of her on the way to setting an impossibly high standard of excellence, writes Andrew Lawrence.
17:29
Tokyo 2020 Olympics Briefing …
If you haven't signed up for Martin Belam's daily round-up of the comings and goings in Tokyo throughout these Games, you've missed out on a real treat. Here's the latest instalment …
Today in a nutshell: no surprises as Team USA took the men's basketball gold, Neeraj Chopra won India's first ever athletics gold, there were wins in the boxing ring and modern pentathlon for Team GB, and Allyson Felix became the most decorated US track Olympian of all time.
Tomorrow's key moments: the men's marathon, track cycling, boxing, a host of team finals, and *gulp* then it's the closing ceremony and we are done.
17:09
Athletics: Sifan Hassan's odyssey from refugee to one of the greatest athletes of this or any other era was confirmed in Tokyo as she became the first person to win three medals over 1500m, 5,000m and 10,000m, writes Sean Ingle, whose workload over the past two weeks made that of the subject of this article look comparatively lazy.
The last leg of the treble, after 5,000m gold and 1,500m bronze, came as the Dutch athlete sprinted clear of Bahrain's Kalkidan Gezahegne to win the 10,000m in 29min 55.32sec, with the Letesenbet Gidey of Ethiopia, the world record holder, winning bronze.
Updated

17:01
Athletics: Track and field's most fascinating science experiment has ended in an Olympic 1500m gold medal for Jakob Ingebrigtsen, who has been training as a professional since he was eight, writes Sean Ingle from Tokyo's Olympic Park. The 20-year-old has long been tipped for greatness after becoming the youngest man to break the four-minute mile at 16. On a muggy Tokyo night the Norwegian, who has been coached by his father, Gjert, since primary school, emphatically confirmed it. Read on …
Updated

16:49
Baseball: "As Japan cheered its first and perhaps last title it was time to bid farewell to an existential crisis dressed up as an Olympic sport," writes Tom Dart at Yokohama Stadium. "Why are we here? Will we ever see each other again? If a Fan Cam scans the stands for people dancing to Uptown Funk, in a stadium without any fans, did anyone really bust some moves?" Read on …
16:40
Tokyo: This is our senior sports reporter's sledgehammer subtle way of pointing to his bosses and our readers that he's still hard at it despite the fact it's in the early hours of the morning on the final day of the Olympics. Oh … and on top of all that, he's getting wet. Wouldn't your heart bleed for him? Poor Seanie.
16:33
Tomorrow: The Olympics draw to a close tomorrow, with the closing ceremony slated for noon (BST). Before that, there are a few more medals to be decided.
Basketball: women's gold medal match
Boxing: Men's light, men's super heavy, women's light and women's middle.
Cycling: Men's keirin, women's omnium and women's sprint.
Gymnastics: Group all-around rhythmic.
Handball: Women's bronze and gold medal matches.
Volleyball: Women's bronze and gold medal matches.
Water polo: Men's classification, bronze and gold medal matches.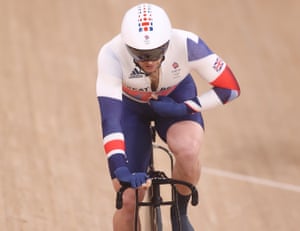 16:25
Boxing: Kellie Harrington, a ridiculously upbeat and cheerful woman who has worked as a part-time cleaner in St Vincent's Hospital in Dublin since the first lockdown, is fast approaching National Treasure status in Ireland. The 31-year-old fights in the final of the women's light final at 6am (BST) tomorrow. Harrington is hoping to become only the third Irish boxer to win an Olympic gold medal, with Michael Carruth and Katie Taylor being the others. To achieve top spot on the podium, Kellie will have to overcome Brazil's Beatriz Ferreira. "Are looking forward to seeing her box, and in particular how she deals with the Brazilian?" asks Tom.
I am indeed, Tom. So much so thattomorrow morning will be the first time during these games that I will be settting my alarm for an early start. I must confess I know nothing about Ms Ferreira and had never actually heard of Harrington until about a week ago. As far as Irish amateur boxing is concerned, I am very much your archetypal glory hunter.
16:13
An email: "No mention of France's wins for the Olympic gold in both handball and volleyball?" asks Christina. "Shame on you."
Crikey. While I could swear I mentioned their win in the handball in a post illustrated by a large photo of them celebrating that victory, I am happy to bow to Christina's superior knowledge. One more time with feeling: France beat Denmark 25-23 in the men's handball final and eventually prevailed over the ROC by three sets to two in the volleyball. Allez les bleus!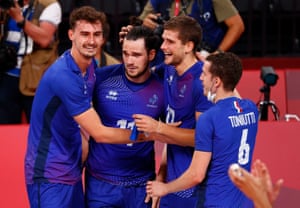 16:04
Irish news: Having plummeted down the placings from fourth during yesterday's women's modern pentathlon after being paired with a less than co-operative horse who refused at several fences during a disastrous showjumping round, here's hoping Natalya will not be reunited with Constantin for the closing ceremony or it might take even longer than usual.
15:58
Boxing: Britain's Galal Yafai says he feels 'overwhelmed' after becoming Olympic flyweight champion with an impressive victory over Carlo Paalam of the Philippines. The 28-year-old from Birmingham knocked his opponent down after only 90 seconds of a dominant first round and gained a 4-1 points decision at the Kokugikan Arena to secure gold. Team GB sent 11 boxers to Japan and are guaranteed six medals, their most at a Games since Antwerp in 1920, although they did win three golds at London 2012.
15:45
Gymnastics: Israel's Linoy Ashram won the individual all-around final of the Rhythmic Gymnastics today, beating the ROC's Dina Averina into second place and ending two decades of Russian dominance. Belarus' Alina Harnasko finished third. The Russian Olympic Committee were not best pleased with the outcome. "The whole world has seen this injustice," they tweeted.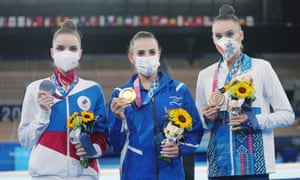 15:31
Athletics: A nation of 1.3 billion erupted in joy on Saturday after Neeraj Chopra won the men's javelin at the Tokyo Games to secure India's first ever Olympic athletics gold post-independence," according the Reuters bureau in New Delhi.
"Thirteen years after shooter Abhinav Bindra won independent India's first individual Olympic gold in Beijing, 23-year-old Chopra obliterated the field with a best throw of 87.58 metres.
Expectations soared after the 23-year-old seized the lead with a throw of 87.03 on his first attempt and his second sealed India's first Olympic athletics medal. The cricket-mad country stayed glued to television sets to follow Chopra's progress, and social media was abuzz as anticipation of a medal grew.
Prime Minister Narendra Modi was joined by President Ram Nath Kovind and several other ministers in paying tribute to Chopra's success. "History has been scripted at Tokyo! What @Neeraj—chopra1 has achieved today will be remembered forever," Modi tweeted. "The young Neeraj has done exceptionally well. He played with remarkable passion and showed unparalleled grit. Congratulations to him for winning the Gold."
India is the most successful hockey nation in Olympic history with eight men's titles but has largely been starved of individual success. The sports fraternity also lavished praise on Chopra who was described by local media as the 'man with the golden arm'.
"The impact your victory will create on promoting your sport amongst the country's youth is immeasurable," Bindra said in a statement. "Also, welcome you to the club. It is not the most happening of places yet and needs more members, but I feel your entry is going to pave the way for many more deserving athletes."
Former athlete PT Usha, who came fourth in the women's 400 metres at the 1984 Los Angeles Olympics, also hailed Chopra's achievement. "Realised my unfinished dream today after 37 years. Thank you my son @Neeraj—chopra1," she tweeted, along with a photograph of her with the javelin thrower.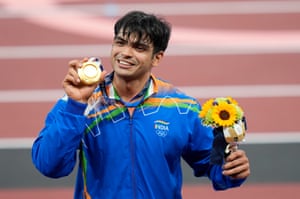 Updated

15:16
Modern pentathlon: Germany's modern pentathlon coach, Kim Raisner, was not part of today's men's individual competition at the Tokyo Olympics. Raisner struck a horse with her fist and urged rider Annika Schleu to 'really hit' the horse when it refused to jump during the women's event on Friday.
Alfons Hoermann, president of the Germany Olympic Committee, confirmed the news and called for an overhaul of modern pentathlon rules. Competitors are currently allocated horses for the equestrian stage of the event in a random draw shortly before it begins.
"We were all in agreement that the coach will not be at the competition on Saturday," Hoermann said. "We also consider that an urgent review of the incident is necessary, especially in terms of animal protection, and that the national and international federations draw their conclusions."
15:11
Japan win baseball gold
Baseball: Japan have beaten the USA, a state of affairs I am assured by somebody who knows far more about these things than I do is "definitely" a shock.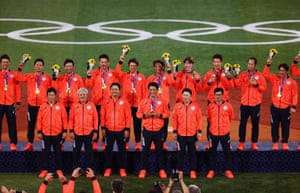 15:08
Brazil win men's football gold!
Men's football: The players of both teams drop to the ground with exhaustion on the final whistle. Spain's are gutted and Brazil's are quickly back on their feet and celebrating jubilantly after winning back to back Olympic golds. On a team comprised mainly of Under-23s, nobody looks happier than the 38-year-old Dani Alves. He is thrilled to bits.
15:04
Men's football: In the final minute of added time, Brazil continue to lead by the odd goal of three. Pedri tries to restore parity for Spain but sends a tired cross/shot wafting high and wide of the angle.
14:58
Men's football: Spain have a desperate penalty appeal for handball turned down at one end moments before Bruno pulls a shot narrowly wide at the other. Richarlison is substituted with six minutes left on the clock. Everton fans will be pleased to see him emerge from the Olympics unscathed.
14:52
GOAL! Brazil 2-1 Spain
Men's football: Or does it? On as a substitute since the 91st minute, Malcolm is played in behind by Antony and finds the far corner from the edge of the six-yard box. His shot took a deflection off the foot of Spain goalkeeper Unai Simon but he couldn't keep it out.
14:48
Men's football: Little time is wasted during the changeover in extra time. Following a brief pause to allow everyone, including himself, to get fluids on board, the referee blows for the second half. It rermains all square at 1-1 between Brazil and Spain and the prospect of penalties looms.
14:45
Gallery: the best of Tokyo 2020 (Day 15) in pictures
Steven Bloor has been busy in his dark room, sifting through the best images of the penultimate day of competition in Tokyo.
14:43
Men's football: Meanwhile in Yokohama, we're approaching the end of the first half of extra time in the gold medal match between Spain and Brazil. Both sets of players look totally exhausted. Well , most of them do. Pedri, who is just 18, is still running all over the place despite the fact he's playing in his 74th match of the season. And with Leo Messi on his way to Paris Saint-Germain, the Barcelona man is unlikely to get much of a rest in the season ahead.
14:39
Men's handball: A shout-out to reader Alexandre Chesnau, who is watching handball and volleyball so that I can keep an eye on the football instead. "Just informing you that France won the gold in men's handball by beating Denmark 25-23," he writes. "The men's volleyball team leads two sets to nil and 13-12 against Not Russia. We're feeling pretty happy over here!"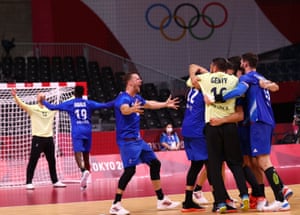 14:35
An email: "Just a thought about the Dutch at the athletics tournament," writes Johan van Slooten. "Before the start of the Games, the Netherlands had achieved 17 medals in athletics in total. In this tournement, they added seven medals – more than the Dutch won between the Games of 1952 and 2016, and the most in any Games (even more than six medals won in 1948, which included four golds by Fanny Blankers Koen)."
14:28
Diving: "There's still a lot further to go, there are 10 countries competing at these Olympic Games where being LGBT is punishable by death," said Britain's Tom Daley after securing bronze behind two Chionese competiotrs in the men's 10m platform. "I feel extremely lucky to be representing Team GB, to be able to stand on the diving board as myself with a husband and a son and not worry about any ramifications."
14:24
Men's football: The ref blows for full time, which means we'll have 30 minutes of eatra time followed by penalties, if they are required.
14:22
Men's football: It's all square in the gold medal match between Brazil and Spain, with Mikel Oyarzabal having cancelled out Brazil's opener shortly after the hour mark. We're into the second of three minutes of added time. Richarlison tries to drill a cross from the left into the Spain box but his effort is blocked.
14:18
Athletics: And that, unless I am very much mistaken, concludes the track and field competition for these Olympics … unless we're counting the men's marathon, which is slated to take place later tonight. And I'm not. Congratulations to all involved.
14:15
Athletics: Meanwhile in the men's javelin, Neeraj Chopra made history for India earlier. The farmer's son, aged 23, took gold with a winning throw of 87m 58cm. Czech chuckers Jakub Vadlejch and Vitezslav Vesely took silver and bronze. That's India's first ever track or field gold. Well done Neeraj!
14:06
Athletics: Mariya Lasitskene of the ROC has just won gold in the women's high jump after Australia's Nicola McDermott fails with her three attempts at 2m 04cm. Ukraine's teenage jumper Yaroslava Mahuchikh gets the bronze the medal. McDermott went tantalisingly close with her final attempt but couldn't quite clear the bar.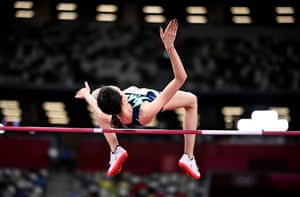 14:01
Athletics: That's a real turn-up for the books, with the Dutch taking over two seconds off their national record to finish second ahead of Botswana in third.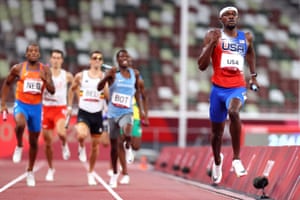 13:58
The USA wins men's 4x400m gold
Athletics: They win easily, while the Netherlands nicked silver from Botswana in the closing stages. Rai Benjamin ran a brilliant anchor leg for the USA.
13:54
Athletics: Team GB's women finished fifth in the women's 4x400m, by the way.
13:53
Athletics: Thoughts turn to the men's 4x400m final, which the USA are expected to win doing handstands. You never know in the relay, which is a funny old game, so don't rule out an upset.
13:52
Men's basketball: Hats off to Australia, who have earned themszelves a spot on the podium after beating Slovenia in the bronze medal match. They won 107-93 and their star player Patty Mills finished the game with 42 points. "We've set the standard now," he said after the game. The USA, who beat France in the final, might beg to differ although it's probably fair to assume Patty was talking about setting the standard for Australian basketball. They've never won a medal at it before, so onwards and upwards in every sense of the word.
Updated

13:47
Men's football: With 54 minutes gone in the gold medfal match, Brazil lead Spain by the only goal of the game which was scored by Hertha Berlin's Matheus Cunha.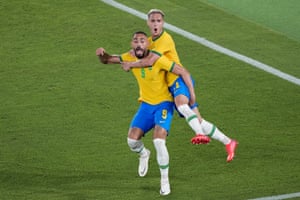 13:44
Equestrianism: I'm not sure if whoever wrote this headline should receive some sort of award or be taken down to the river to pray … for some sort of divine intervention and assistance.
13:40
Athletics: Australia's Nicola McDermott has just failed at her first attempt at 2m 02cm in the women's high jump. She was the first to attempt it.
13:37
USA win women's 4x400m relay gold
Athletics: Thanks to the weather, I've managed to miss the women's 4x400m final, but my pictures return in the immediate adftermath of the race. Team USA have won in a time of 3min 16.85 seconds and were followed home by Poland (3min 20.53sec) and Jamaica (3min 21.24sec). Humble apologies for the brief but irritating loss of transmission.
Updated

13:34
Weather: In slightly less good news, a torrential downpour of Biblical proportions in one corner of SouthLondon has rendered your reporter's satellite feed temporarily (I hope) out of commission. If anything interesting or noteworthy is going on in Japan, feel free to keep me informed.
13:25
Athletics: In further good news for our Antipodean cousins who excel in the field of leaping, Australia's Nicola McDermott has just cleared two metres in the women's high jump, becoming the first in the competition to do so.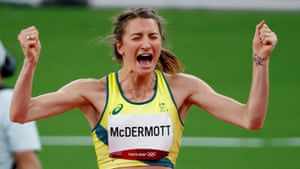 Updated

13:21
Men's basketball: The bronze medal match between Australia and Slovenia remains ongoing and Australia lead 75-66 with less than a minute left in the third quarter. Patty Mills is running the show for the Aussies, having notched up 36 points, three rebounds, five assists and one steal.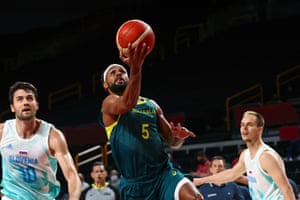 Updated

13:16
Men's football: It remains scoreless in the gold medal match between Brazil and Spain as the game approaches half-time. Brazil were awarded a spot-kick through the intercession of VAR earlier, but Richarlison blasted the ball over the bar.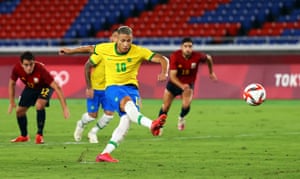 13:12
Kon'nichiwa everybody. You join me mere seconds after Jessica Springsteen, daughter of blue collar, working class hero Bruce, has won silver as part of the USA's showjumping team.
Sweden took the gold in a jump-off, with Peder Fredricson and his mount All In pulling a brilliant clear and quick round out of the fire to steal gold from under the noses of Jessica and her team-mates at the death. Belgium finished third.
13:07

Geoff Lemon
That's enough for me. There's nothing like these Olympic days. Fare the well through the last few events, Barry Glendenning will be your guide.
Updated