Get unlimited access
You have 10 articles remaining to view this month.
Alejandro Agag says Formula 1 would need Formula E's permission if it wanted to go fully electric in the next decade.
F1 sporting boss Ross Brawn has claimed that there is "nothing to stop" the championship switching to fully electric power in future seasons.
"If in five years' time or 10 years' time or whenever there is a need, desire, wish to have a different type of power unit in Formula 1, we'll do it," Brawn told the F1 Fan Voice community website.
But FE CEO and founder Agag said such a move would not be possible due to his championship's agreement with the FIA.
"Ross said that Formula 1 could go electric in 10 years – and basically, they can't," Agag told Autosport.
"Formula E has an exclusive licence with the FIA for 25 seasons, and we've only done four.
"So the earliest Formula 1 could go electric is 2039, if we don't renew our agreement with the FIA then, but I don't see any reason why we shouldn't renew for longer.
"We have exclusivity until at least 2039 – so no electric F1 until then at least.
"If they want to talk to me then of course that's a different question – I'm always open to talk to people.
"But without talking to me there is no way they can do anything fully electric."
When asked if he interpreted Brawn's comments as F1 being threatened by FE, Agag replied: "I don't think they should be.
"I don't know if they do, they may do, but that's probably mistaken. I think we are very different and we are totally compatible.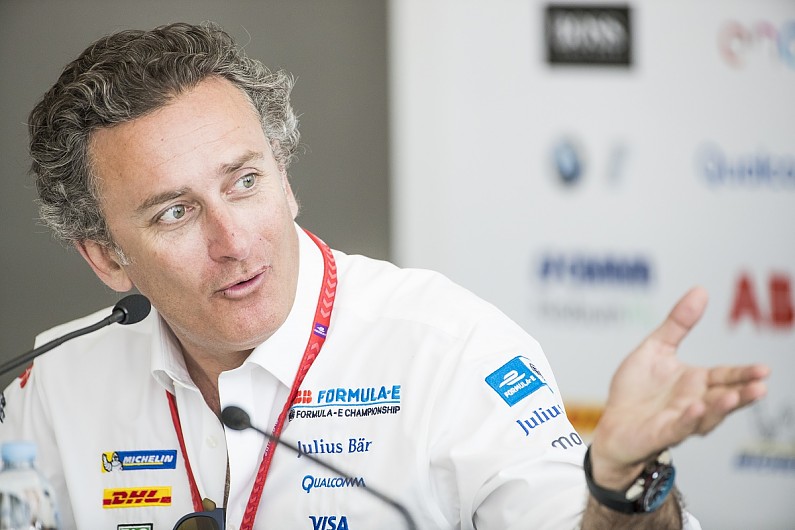 "There is no competition whatsoever, they are [two] completely compatible series. I have great admiration for Ross Brawn, but in this case he just got the maths wrong."
Brawn also referred to FE as "very junior" in terms of its appeal and number of fans compared to F1, but Agag explained that he did not view such comments as disrespectful.
"We are very big admirers of Formula 1," he said. "We are big fans and we never change that line.
"[But] it's interesting that these comments come now because Formula E has been growing so fast.
"I think that makes quite a lot of sense – after seeing how Formula E is growing I can understand that some people in Formula 1 are thinking to go full electric.
"Even Bernie [Ecclestone] himself said a few months ago that Formula 1 should go full electric.
"But what [I understand from] those comments is that basically there may be the possibility of Formula 1 going full electric, but clearly that's not possible without talking to us because we have exclusivity with the FIA.
"They could do it outside of the FIA, but then they couldn't call it Formula 1, because Formula 1 is a name that belongs to the FIA, so the whole thing is pretty sealed."