Get unlimited access
You have only 5 articles remaining to view this month.
Fernando Alonso says a lack of track action in Formula 1, rather than his and McLaren's recent poor results, prompted his 2019 exit decision.
The two-time champion announced earlier this week that he would not be competing in F1 in 2019, but has not ruled out a return in the longer term.
Alonso said grand prix racing's predictability and lack of excitement had become too much for him.
"The action on track is not the one I dreamed of when I joined F1, or when I was in different series, or the action on track that I experienced in other years," said Alonso.
"I stopped because the action on track, in my opinion, is very poor. In fact, what we talk about more in F1 is off track.
"We talk about polemics. We talk about radio messages. We talk about all these things, and when we talk so many times about those things, it is a bad sign.
"There are other series that maybe offer better action, more joy and more happiness, so that is what I try to find."
Although Alonso conceded that a realistic prospect of winning a third F1 title in 2019 may have been enough to convince him to stay, he was adamant F1 simply no longer enthuses him.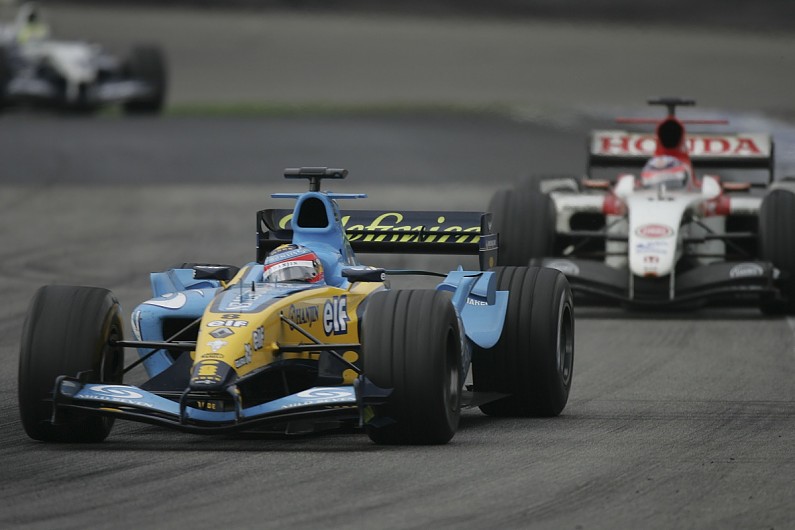 "In 2004 [pictured] and 2009, I was not winning any single race in those years. But it was difficult to predict [then] what could happen in Spa and Monza [for example]," Alonso said.
"Now, we can write down what is going to happen at Spa and Monza. We can put the first 15 positions with maybe one or two mistakes. So how predictable everything became is tough.
"We go to Barcelona and we test the first day of winter testing and you know what you will do until November in Abu Dhabi and it is tough.
"For me, it is not too much of a problem because after 18 years I achieved more than what I dreamed of.
"But for young drivers or different drivers, it is tough because they just hope that next year the team does an unbelievable step or they receive a call from one or two teams. It became difficult for ambitious drivers."