Lewis Hamilton has reclaimed the lead from Sebastian Vettel in Autosport readers' Formula 1 driver ratings for the 2018 season so far.
Vettel's victory in the Belgian Grand Prix put him back ahead of his championship rival based on the scores given out by Autosport Plus members after each race, but Hamilton's surprise win at Monza has moved him to the top of the pile again.
Hamilton's average score from the season from our readers is now 7.99/10, while Vettel's has fallen to 7.74 after picking up just a 5.8/10 rating for his Italian GP performance, where he recovered to fourth after colliding with Hamilton on the opening lap.
---
Have your say
Who delivered and who flopped? Submit your driver ratings after every grand prix
---
The Mercedes driver's score of 9.5 for the Monza weekend was the highest of everyone, with Hamilton claiming that honour for the fourth time this season, more than any other driver has managed so far.
The biggest mover in the field is Vettel's team-mate Kimi Raikkonen, who climbs three places from seventh to fourth after earning a 9/10 score in Italy, where he started from pole and narrowly lost out to Hamilton for victory.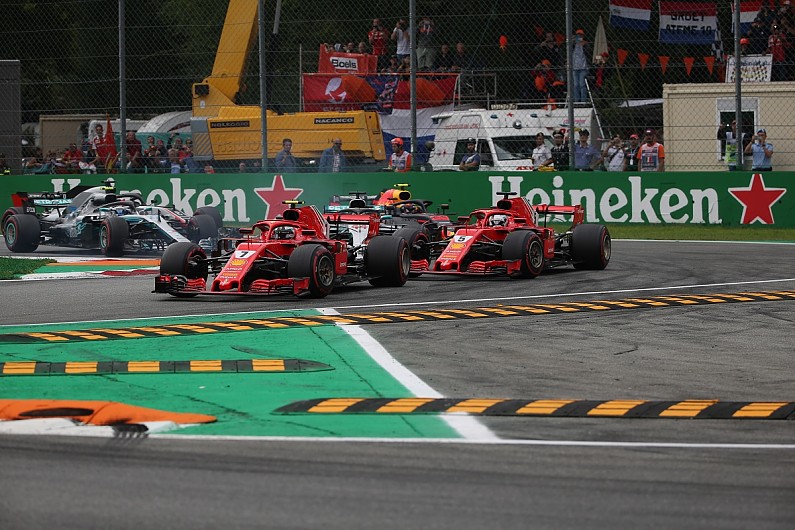 Raikkonen's progress slots him in behind third-placed Kevin Magnussen, and pushes his fellow Finn Valtteri Bottas down a place to fifth.
Ferrari's expected 2019 signing Charles Leclerc holds onto sixth place despite registering his fourth consecutive score below seven, as Fernando Alonso drops from fifth to seventh.
The final change inside the top 10 is for eighth position, where Esteban Ocon has moved ahead of Daniel Ricciardo, while 11th place has swapped hands between the two Renault drivers, with Carlos Sainz Jr knocking Nico Hulkenberg down a spot to 12th.
Brendon Hartley picked up the lowest score of the weekend after he failed to match team-mate Pierre Gasly in qualifying and was knocked out of the race just seconds after the start, earning a 5.6/10.
That drops the Toro Rosso driver to 17th in the standings for the season, only ahead of Stoffel Vandoorne, Sergey Sirotkin and Lance Stroll – who picked up his first score above eight (8.2) of the year for his ninth place finish in Italy.
Autosport readers' averages so far
| | Driver | Rating | Change |
| --- | --- | --- | --- |
| 1 | Lewis Hamilton | 7.99 | Up 1 |
| 2 | Sebastian Vettel | 7.74 | Down 1 |
| 3 | Kevin Magnussen | 7.63 | – |
| 4 | Kimi Raikkonen | 7.57 | Up 3 |
| 5 | Valtteri Bottas | 7.51 | Down 1 |
| 6 | Charles Leclerc | 7.47 | – |
| 7 | Fernando Alonso | 7.43 | Down 2 |
| 8 | Esteban Ocon | 7.36 | Up 1 |
| 9 | Daniel Ricciardo | 7.30 | Down 1 |
| 10 | Pierre Gasly | 7.20 | – |
| 11 | Carlos Sainz Jr | 7.04 | Up 1 |
| 12 | Nico Hulkenberg | 7.00 | – |
| 13 | Sergio Perez | 6.94 | – |
| 14 | Max Verstappen | 6.62 | – |
| 15 | Marcus Ericsson | 6.34 | – |
| 16 | Romain Grosjean | 6.17 | Up 1 |
| 17 | Brendon Hartley | 6.02 | Down 1 |
| 18 | Stoffel Vandoorne | 5.81 | – |
| 19 | Sergey Sirotkin | 5.65 | – |
| 20 | Lance Stroll | 5.27 | – |