Michelin says it could offer the spectacle of a 'tyre war' even as a sole supplier if Formula 1 took the "risk" to head in that direction.
The tyre manufacturer has kept a close eye on developments in F1 since it pulled out at the end of 2006, but decided against joining the FIA's tyre tender bid for 2020-23.
Michelin did not want to produce 13-inch wheels for 2019, ahead of a planned switch to 18-inch designs the following year, or create high degradation tyres.
Michelin's motorsport boss Pascal Couasnon says its interest is in taking a similar approach to MotoGP.
"Is F1 good today? That would be my question," Couasnon told Autosport.
"The sport and the [tyre] manufacturer would have to take a risk, but compared to today [it could be good].
"Look at MotoGP. We bring three types of tyres for the front and the rear, and the riders can choose. You then finish the race with three different combinations on the podium.
"The best compliment we have received from journalists is that Michelin has recreated a tyre war with one brand, and that is what we would love to do for F1.
"Let's not forget endurance racing for example. in GTs, we deliver specific tyres for each car because there is such a difference between a Ferrari, a Porsche, an Aston and a Corvette.
"And nobody complains because we work hard to give the best package possible, so everybody can fight. That is the philosophy we would like to bring to F1."
Couasnon added that Michelin was able to make a swift decision against attempting to rejoin F1.
"When we were informed of the key elements of the tender, we looked at it and fairly rapidly we saw that there might be some very serious roadblocks," he said.
"Obviously the first one was the fact that we had to start a development of 13-inch wheels [for 2019], which really didn't make sense. It would bring a lot of cost to something about which Michelin had a very clear position.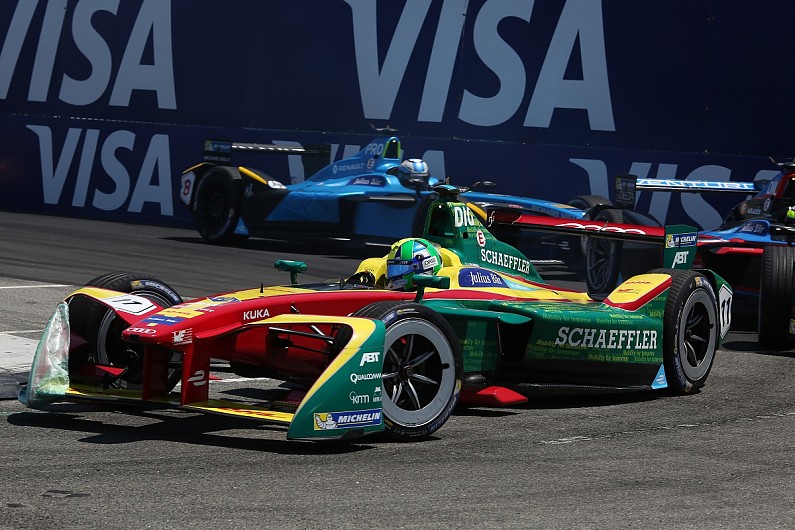 "Budgets are restricted and we need to make sure that we use the money on something that is useful for motorsport but is also useful for the car of tomorrow. So that was one very serious roadblock to start with.
"Nevertheless we were very encouraged with the fact that F1 has taken into account that proposal of Michelin [for 18-inch tyres] that we made in 2010 and that we have been able to implement in Formula E."
"The second issue in terms of philosophy was having tyres which degrade, and that again is something that we are not in favour of: spending technical resources and money for something that is not useful for the driver of tomorrow.
"The key thing is to really develop the package which helps the driver to express his talent and fight.
"We don't believe degrading tyres to build an artificial strategy is the way to go for tyres."