Matching one of Formula One's greatest records dominated the buildup surrounding Lewis Hamilton before the Eifel Grand Prix but with his Mercedes teammate, Valtteri Bottas, taking pole position, the world champion has banished any consideration of celebration until the job is done.
In the chill October air of the Nürburgring, Bottas gave notice that Hamilton, who qualified second, will have to be fired up on Sunday to claim the necessary victory, and the Briton acknowledged he has work to do.
Hamilton would match Michael Schumacher's record of 91 race wins at the circuit just 50 miles from the German's home in Kerpen and where he won five times. But beaten solidly to pole by his teammate, a clearly disappointed Hamilton dismissed chasing numbers in favour of concentrating on the task in hand.
The world champion's ability to compartmentalise setbacks and move on is well documented. In Germany, everything except the race was deemed a distraction. "I have my work cut out tomorrow, [the record] is not something I really think about," he said. "If and when it happens it will be great but right now Valtteri and Max [Verstappen] are making it pretty hard for me. I am enjoying this battle I have with these guys."
He has stated that equalling Schumacher's seven titles, which he remains on course to achieve his season, was a feat he coveted more than race wins and he repeated this after qualifying. "I am just not really bothered by it," he said of the victory tally. "I am solely focused on trying to do the best job I can, if that gets me to that win then great, but I am not looking short-term, I am looking further ahead."
Despite Hamilton dominating over the single lap this season, with eight poles from 11 races, it was Bottas who made the immediate impact at the Nürburgring. With only one hour of practice before qualifying, after poor weather had curtailed track time at the meeting, the Finn put in a superlative lap.
Verstappen, who was third fastest, was impressive on his first hot run in Q3 setting a time of 1min 25.744. The margins were tight, with Bottas just six-hundredths down and Hamilton eight-hundredths back.
Hamilton edged in front through the middle sector but Bottas in his wake was stringing together a finely honed run, up across the entire lap. He finished with a 1:25.269, 0.256 clear of his teammate. It was a statement of intent by the Finn.
F1 has not raced here since 2013 and with no practice on Friday, qualifying was a test in the heat of competition and Bottas had the edge. "All drivers need to be adaptive and to learn quickly corner by corner but I really like it," said the Finn. "Finding the small details quickly. Since I was a kid driving different things, where I drove in ice and snow, all kinds of different conditions, I always liked that and from a young age I found it really interesting."
Hamilton retains a strong advantage in the long game, leading Bottas by 44 points and being 77 ahead of Verstappen, but Bottas won the last round in Russia and may just be beginning to pile some pressure. This challenge is one Hamilton recognises as of greater import than just when he finally matches Schumacher. With cooler temperatures expected, and with a high chance of rain making the race likely to be anything but straightforward, Hamilton has clearly decided he has more than enough to consider in finding his best to beat Bottas.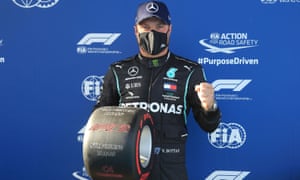 Ferrari's Charles Leclerc returned the Scuderia a superb fourth, with Alexander Albon fifth for Red Bull. Renault's Daniel Ricciardo and Esteban Ocon were in sixth and seventh. Lando Norris and Carlos Sainz were in eighth and 10th for McLaren and Sergio Pérez in ninth for Racing Point. Leclerc's Ferrari teammate, Sebastian Vettel, was knocked out in Q2 in 11th place.
Nico Hülkenberg was drafted in to replace Racing Point's Lance Stroll at the last minute after the Canadianwas unwell on Saturday morning. Hülkenberg has already stepped in for Racing Point at two races this season when Pérez contracted Covid-19. The team bring his race seat with them to meetings but were fortunate Hülkenberg was nearby in Cologne working with broadcasters. It was a huge task for the German, coming to the car and track with no preparation, he finished in 20th.
Weather conditions on Sunday are expected to be similar to the rain and mist that prevented running on Friday. Practice did not take place then because the medical helicopter could not take off to fly to the designated hospital in Koblenz within the 20 minutes mandated by the regulations. As a result, the FIA has adjusted its protocols to ensure racing can take place, with a contingency plan to drive any injured party down the mountains for 3km before then being airlifted to the hospital, ensuring the process remains within the 20-minute window.
Pierre Gasly and Daniil Kvyat were in 12th and 13th for AlphaTauri. Alfa Romeo's Antonio Giovinazzi in 14th and Haas's Kevin Magnussen in 15th.
Haas's Romain Grosjean was in 16th, with the Williams of George Russell and Nicholas Latifi in 17th and 18th. Alfa Romeo's Kimi Raikkonen was in 19th.