Max Verstappen has blamed Valtteri Bottas for the coming together that earned the Red Bull driver what he deemed an unfair penalty in Formula 1's Italian Grand Prix.
Bottas had trailed Verstappen for third place throughout the opening stint, and the Dutchman was warned for gaining an advantage by cutting across the Rettifilo chicane under pressure from his rival early on.
Mercedes then opted to leave Bottas out to hold up race leader Kimi Raikkonen and allow eventual winner Lewis Hamilton to close in before Bottas finally pitted from the lead on lap 36 of 53.
Bottas returned to the track within four seconds of Verstappen in third. He attempted to pass the Red Bull driver at the first corner and Verstappen moved back across to the left before turning into the right-hander, making contact with Bottas and forcing him down the escape road.
Verstappen was given a five-second time penalty, which he reacted to furiously on the radio, and he dropped from third to fifth behind Bottas and Sebastian Vettel in the final order.
"I gave him [Bottas] plenty of space and if he then drives against my wheel, I can't do anything about that. But in the end I got a penalty for it," said Verstappen to Ziggo Sport.
"You are allowed to go back to the left under braking, as long as you leave enough room for one car. And that's what I did."
He wondered if having cut the chicane earlier meant he was treated more harshly.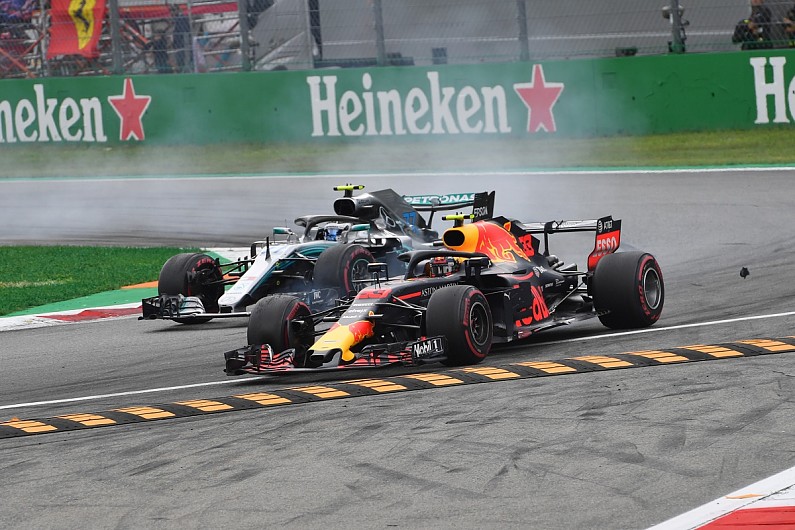 "When he first tried to overtake me I went a bit wide, maybe that's why they gave it [the penalty] to me," Verstappen told Sky Sports F1.
"But even then I think it's not fair because they gave it straight away."
Verstappen fought hard to stay ahead of Bottas on the road afterwards, even though he knew he would lose the place when the penalty was applied.
He even suggested over the radio that he did not care if defending against Bottas made it more likely he would lose fourth to Vettel too.
"After I got that penalty, I knew for sure that I wouldn't let him pass," Verstappen said of the Bottas battle.
"If you already have that penalty anyway, then you know you will become fifth so then you have nothing left to lose.
"If Bottas passes you then you lose another two or three seconds within the following two laps."
Bottas was adamant Verstappen deserved his penalty.
"There were a couple of proper overtaking opportunities for me and the first one, I went inside and he just cut the chicane to stay ahead of me," said the Mercedes driver.
"The second time – I think there is a very clear rule that once you defend you choose your line and if another car is there you need to leave a car's width and obviously he didn't.
"I was there, so we touched and he got a penalty for that. It's a very simple and clear rule."