It's been a long summer. Need a quick overview of what you need to know about every Western Conference team as the NHL season comes into view? We got you covered.
---
Central Division
Chicago Blackhawks
2 Related
Toews' comeback: The 2017-18 season was a bumbling disappointment for the Blackhawks as a whole, with their esteemed captain front and center of the entire playoff-missing mess. This approaching campaign, however, will be much-improved, promises Jonathan Toews, and I'm inclined to believe the three-time Stanley Cup-winner. A career-low 9.4 shooting percentage is partly to blame for last year's desultory 52 points. Centering a rotation of struggling wingers, with rookie Alex DeBrincat being the lone shining outlier, also provides some cause. Splitting DeBrincat and Brandon Saad, who's also due to bounce back after registering a 7.6 shooting percentage last season in his own right, or maybe even one of the youngsters Victor Ejdsell or Dylan Sikura, Toews appears firmly poised to bounce back into the 60-plus point sphere.
Crawford's head: Do not underestimate how large a concern this is for the Blackhawks. As of mid-August, more than seven months after sustaining a "suspected head injury," Corey Crawford remains iffy for the start of 2018-19. Long-time Carolina Hurricanes netminder Cam Ward, signed to spell off Crawford when needed, could be much busier than anticipated. Hopefully the Blackhawks' No. 1 recovers fully soon and performs to his usual level, but from a fantasy view, I'm steering well clear of Chicago's uncertainty in net.
Colorado Avalanche
Top line decline?: Colorado's top trio of Nathan MacKinnon, Gabriel Landeskog and Mikko Rantanen combined for an average shooting percentage of 14.6 in 2017-18. That feels unsustainably high, meaning we might anticipate a mild correction from last season's corresponding numbers: 97 points in 74 games for MacKinnon and Rantanen with 84 in 81 contests. It's worth considering when drafting any member of the team's No. 1 unit.
Battle in net: When healthy, Semyon Varlamov enjoyed an unexpectedly successful go of it this past season — 24-16-6, .920 save percentage — with a surprisingly successful Avalanche squad. With the Washington Capitals, Philipp Grubauer was superb when called upon in relief of Braden Holtby, at least until the playoffs. Keep a view of who emerges as the top guy out of camp as a strong sleeper candidate.
Dallas Stars
Nichushkin's U-turn: He's back. More experienced and presumably more mature, the now 23-year-old is reconnecting with his former NHL team after a couple of seasons in the KHL. One of two scenarios likely unfolds here. Valeri Nichushkin could join a second line with Jason Spezza and put up decent, if unspectacular, scoring numbers (50ish points?) while helping to refresh the aging center's career (last year was not pleasant for Spezza). Or he replaces Alexander Radulov on a top unit with Tyler Seguin and Jamie Benn, and scores 60-plus points, assuming a gig on the top power play is a given regardless. We'll learn a lot more about new coach Jim Montgomery's preference in the latter stages of camp.
Minnesota Wild
Praise for Parise: In the first two months following his return from a back injury, Zach Parise collected nine points. The 34-year-old then went on to score 12 goals and three assists in his final 18 games. Now recovered from a fractured sternum suffered in the postseason, Parise appears healthy enough to pick up where he left off, aside either Mikko Koivu or Eric Staal. He's one of my favorite early sleeper candidates altogether.
Niederreiter's new lease: No one would blame Nino Niederreiter for wanting to thoroughly wipe his hands of 2017-18, interrupted and/or hampered by injury. After busting out for 25 goals and 32 helpers in 2016-17, the 25-year-old managed all of 32 points in 63 games this past season. But he's reportedly fit and healthy heading into training camp. Barring setbacks, a steady top-six role alongside either Staal or Koivu is there for the cementing. Ranked 168th this offseason, Niederreiter has 60-plus-point sleeper potential in most fantasy leagues.
Dumba's emergence: From March 1 onward, Matt Dumba averaged more than 26 minutes per game, collecting 16 points in 19 contests over that span, including five with the man advantage. Taking over for esteemed veteran Ryan Suter as the Wild's top offensive-defenseman, the 24-year-old is just getting started. He's the full fantasy package and should be considered a top-10 blueliner in most conventional leagues.
Nashville Predators
Tolvanen's time?: This kid can score. If he makes the Predators' roster out of camp, he'll be offered ample chance to do so. With all the markings of a keeper jewel, Eeli Tolvanen also merits weighty consideration in all but the shallowest of re-draft leagues. Playing with the big boys in the KHL this past season, the then 18-year-old collected 19 goals and 17 assists in 49 contests.
Even more Saros: Pekka Rinne wins his first Vezina, and we are all about the Predators' back-up. Fact is, Nashville's veteran netminder is turning 36 years old this November and is in the final year of his current contract. This isn't to suggest Rinne doesn't re-sign with the Preds, only that the clock is ticking. Enter Juuse Saros, coming off an altogether impressive rookie campaign to the tune of 11-5-7 and a .925 save percentage. Armed with a recently-signed three-year deal, the 23-year-old could be featured in 30-plus games this season.
St. Louis Blues
New-look second line: If anyone could use a little luck on the health front, it's forward Robby Fabbri. After tearing his left ACL twice in 2017 nearly eight months apart, the 22-year-old is finally cleared to play. If that knee holds up this time around, the 2014 first-round draft selection slots in promisingly on a formidable second line and power play with former Buffalo Sabres center Ryan O'Reilly and veteran right wing Alexander Steen. Combining for a daunting one-two punch with the Jaden Schwartz/Brayden Schenn/Vladimir Tarasenko unit, the O'Reilly trio has the potential to put up some serious numbers. And if Fabbri falls hurt once more, coach Mike Yeo has plenty of sub options from one of the league's deeper roster of forwards.
Allen concerns: The Blues' starting netminder was again inconsistent in his second-straight season as the club's go-to No. 1, struggling most through a good portion of December, January and February. So why expect better from the 28-year-old in 2018-19? According to The Athletic, Jake Allen is taking a different, albeit unspecified, approach to his offseason preparation, be it mental, physical or both. After posting a .906 save percentage this past campaign, shaking it up can't hurt. Having improved depth out front also bolsters Allen's chances at a solid bounce-back showing.
Winnipeg Jets
Connor's sophomore campaign: Aside from the not insignificant loss of trade deadline pick-up Paul Stastny, the 2018-19 Jets generally resemble the version that reached the most recent Western Conference final. That means another season of Kyle Connor skating on a Winnipeg top line with Mark Scheifele and Blake Wheeler, only this time, we'll come to anticipate a 30-goal/60-point campaign from the 21-year-old second-year player. If anything, with a full NHL season under his suspenders, an increase in minutes, shots and power-play production should be in the offing.
---
Pacific Division
Anaheim Ducks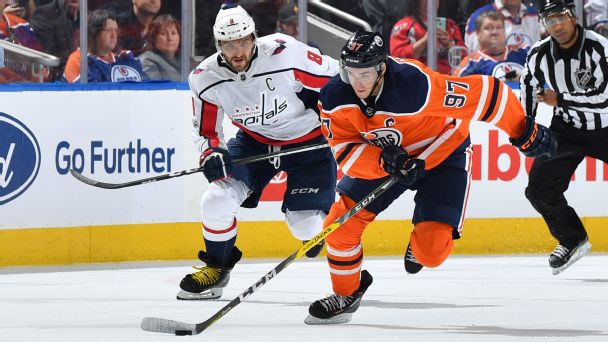 Get ready for the upcoming fantasy season with all of our preseason advice:
Top 300 rankings »
Dynasty league rankings »
Eastern Conference preview »
Western Conference preview »
Perry remains relevant: There's no writing off Corey Perry as a fantasy asset quite yet. For one, his shooting percentages of 8.8 and 10.1, respectively, in the last two seasons provide some justification for the decrease in production. Injuries, both those sidelining and others less serious, were also factors. Fact is, we still saw sufficient flashes of the Perry of old to believe he's not washed up yet. While the Halcyon days of a season's 80-point/100-PIM output are likely over for good, the testy winger still merits a roll of the fantasy dice, as long as he remains on a top Ducks scoring line with Ryan Getzlaf and Rickard Rakell.
More from Montour?: Flying under the fantasy radar, Brandon Montour served as a pleasant surprise in 2017-18, particularly when subbing in on the power play for an injured Cam Fowler. Even with a healthy Fowler in the mix, the third-year defenseman is expected to build on last season's bundle of 32 points. Fantasy managers in deeper leagues that value power-play production should be extra aware of this young blueliner.
Kesler's hip: There's talk Ryan Kesler could miss the entire 2018-19 campaign in recovery from offseason hip surgery. If so, Adam Henrique is first in line to sub in as second-line center, perhaps alongside recently re-signed winger Ondrej Kase. Fantasy managers in deeper leagues shouldn't disregard the sneaky fantasy value in that Henrique/Kase combo, if that's how it indeed shuffles out.
Arizona Coyotes
Too many centers: Assuming Derek Stepan is left be on a top line with leading scorer Clayton Keller, and trade import Alex Galchenyuk is legitimately offered a shot at proving his competence by centering a second scoring line, 22-year-old Christian Dvorak is likely bumped to the Coyotes' third forward unit, shifting fellow youngster Dylan Strome to the wing. If, however, Galchenyuk falters in his preferred position, as was the case in Montreal, Dvorak is likely to take over as centerman on the second unit, with the former Canadien reinstated (rather unhappily, we'd suppose) as a winger. Got it? Point is, there's much in play here that might not be thoroughly worked out until the season is well underway. Outside of Keller, Stepan and Galchenyuk as an alluring wild card in his new digs, fantasy managers might hold off on investing in other Arizona forward assets until later stages of the draft.
Calgary Flames
Neal's new gig: If James Neal settles, as anticipated, on a top line with Sean Monahan and Johnny Gaudreau, the 30-year-old winger could reacquaint himself with a similarly prolific scoring pace enjoyed back with the Pittsburgh Penguins (2011-14), when he registered 178 points — nearly half of them goals — in 179 games. Honestly, I'm more excited about the fantasy fallout from this particular offseason transaction than most others, especially since Neal is often underrated as a fantasy asset to begin with.
New face on D: With Dougie Hamilton sent the other way in a trade with Carolina, former Carolina Hurricanes defender Noah Hanifin is expected to play a substantial role on the Flames' blue line. Veteran Mark Giordano is entering the twilight of his career. Along with T.J. Brodie, Hanifin will be tasked to contribute more offensively from the back end, particularly with the man advantage. Drafted fifth overall in 2015, the 21-year-old has tangibly improved year by year, collecting 32 points this past season, his third in the NHL. As a contributing member with Calgary, he'll score 40 this season.
Edmonton Oilers
Give Lucic a chance: No one is more disgusted with how 2017-18 unfolded for Milan Lucic (34 points, minus-12) than the 30-year-old himself. And he's determined to make immediate amends. I'm all on board with that, as long as the veteran winger remains within the club's top-six, as anticipated. This guy still has the wherewithal to be a 50-plus-point/80-PIM performer. There remains a place for him in a wide variety of fantasy leagues.
They'll be better this year: From goalie Cam Talbot on out, almost every non-rookie member of the Oilers not named Connor McDavid underperformed last season. It happens sometimes. While this team, as assembled, is hardly Stanley Cup Final bound, it will collectively have a better time of it in 2018-19, which will translate into greater individual success across the board.
Los Angeles Kings
All about Ilya: Maybe, at 35 years of age, he's lost a step. A better than point-per-game pace, as enjoyed in his last full season with the New Jersey Devils in 2011-12, is probably asking too much. But one of the most dynamic forwards of his generation is prognosticated to hold his own on a top scoring line with one of the best centers in the game in Anze Kopitar. Veteran Ilya Kovalchuk has spent the last five years dominating in the KHL, not drinking pina coladas on the beach. If Kopitar can inspire Dustin Brown to blossom anew for more than 60 points, as happened last season, Kovalchuk should conceivably better that mark. Draft him accordingly.
Welcome back (healthy) Carter: After losing four months to injury, Jeff Carter amassed 13 goals and six assists in 20 games to wrap up 2017-18. Don't underestimate what the 33-year-old center can accomplish in a full healthy season, particularly as a key component on a top power play that also includes Kovalchuk and Kopitar. Additionally, winger Tyler Toffoli is bound to rebound from his recent humdrum 47-point campaign, with his talented centerman back in steady play.
San Jose Sharks
Kane is able: Frankly, this is probably the happiest Evander Kane has ever been in his pro career: Playing on a top scoring line with a legit playoff-contender in affably temperate Santa Clara County. If this past season's small sample size with the Sharks (nine goals and five assists in 17 games) proves indicative, Kane is on track for a blockbuster campaign. But injuries have historically been an issue, as have other dressing-room and off-ice concerns. Fantasy managers with stronger stomachs will want to jump on the 27-year-old dynamite scorer eagerly and early. Other more conservative types might not.
More from Meier: In 2017-18, his first full NHL season, Timo Meier scored 21 goals and 15 assists. Not a bad start. Now the Sharks will want more from their 2015 ninth-overall draft pick. As permanent fixture on a second line with center Logan Couture and member of the secondary power play, the soon-to-be 22-year-old will see an increase in minutes and responsibilities. This young lad isn't scared to shoot the puck. There's bust out potential here.
Vancouver Canucks
The Boeser and Bo Show: If it wasn't for a season-ending back injury, Brock Boeser would have wrapped up his first full NHL campaign with approximately 70 points, good for a solid second place behind Mathew Barzal in rookie scoring. Fortunately, months later, he reportedly feels "really good" heading into 2018-19. While the immediate complete picture might not be a pretty one for the rebuilding Canucks, the top duo of Boeser and Bo Horvat will still put up impressive individual scoring numbers, as long as they remain healthy. With Daniel Sedin and Henrik Sedin off enjoying retirement, it's their team now.
Canucks' youth movement: Despite having played a combined zero games in the NHL, center Elias Pettersson and winger Jonathan Dahlen should fill significant roles with the newly Sedin-less Canucks. At 19 years old and drafted fifth overall in 2017, Pettersson is already penciled in to center a second scoring line after rocking out 56 points in 44 games in the Swedish Hockey League last season. Dahlen, another former Swedish pro but still an uncertainty to make Vancouver's roster out of camp at 20 years of age, remains a key figure in the club's long-term plans. And he could present as a pleasant surprise, sooner than later. While dynasty leaguers should be all over both prospects straight off, managers of all fantasy stripes would benefit from investing in Pettersson immediately.
Vegas Golden Knights
Top-line regression: Despite playing on an ultra-motivating one-year contract, fat chance William Karlsson scores 40-plus goals for a second-year running in light of last season's utterly unsustainable 23.4 shooting percentage. Along with linemates Jonathan Marchessault and Reilly Smith, there's danger in overestimating Wild Bill's productive prowess 12 months after last summer's grand undervaluation. Let's chalk Vegas' top forward up for 30 goals or so — still an impressive total — and leave it at that. Now watch him score 50.
Stastny's new gig: After joining the Jets at the trade deadline, Paul Stastny collected 13 points in 19 games, largely on a line with Patrik Laine and Nikolaj Ehlers. To be fair and not to disregard Vegas' overall success their inaugural season, Erik Haula, Alex Tuch and/or Tomas Tatar aren't quite of the same scoring caliber. That being said, Stastny can still be relied upon for a solid 60-point campaign, peppered with power-play production, in a full healthy season — which he enjoyed last year for the first time in a while.
Don't sleep on Shea: As discussed in first impressions, Shea Theodore finished up 2017-18 with nine points in 10 games as fixture on the Knights' top power play. This 23-year-old future star, drafted by the Ducks in the 2013 first round, will shine bright on Vegas' blue line for years to come. Put him down for 50 points between October and April in the here and now.