Breaking the template is easier for some franchises than others.
The Arizona Coyotes hired John Chayka at 26 years old as their general manager, and the reaction was akin to "well, what else are they going to do?" The San Antonio Spurs hired Becky Hammon in August 2014 as the first woman to serve as a full-time salaried assistant coach in the NBA because they were coming off a championship — and because Gregg Popovich could be like, "This season, we're wearing Crocs" and then LaMarcus Aldridge becomes the first player to win MVP in Crocs. (And then people are waiting two hours in line outside of the Nike Store to buy Crocs.)
The Toronto Maple Leafs are an Original Six team, and in that sense, are expected to do things in an Original Six manner. Like hiring a parade of managers of similar cultural and demographic backgrounds, promising success within five years and then being replaced by a clone upon their firing. But they also haven't won a Stanley Cup since the year The Beatles released "Sgt. Pepper's Lonely Hearts Club Band," which means some level of invention was understandable.
2 Related
It started at the top when Brendan Shanahan, whose only managerial experience was as the NHL's first Department of Player Safety sheriff, was named team president in 2014. Three months later, he hired 28-year-old Kyle Dubas as an assistant general manager, a move that was as noteworthy for the young executive's commitment to analytics as it was for his experience. Four years later, Dubas ascended to become the team's general manager, completing the track Shanahan had placed him on. Criticisms of his age, experience, or ability to work with the egos of successful coaches and players were summarily ignored; Shanahan hired what he considered to be the best person for the job.
And that's exactly what Dubas did in hiring Canadian hockey legend Hayley Wickenheiser as the team's assistant director of player development this week. Yes, she's a woman. No, she has never played in the NHL or AHL, although she has played with and against men in international leagues, should that qualification actually matter. But Dubas put it succinctly: We're doing things differently here because it's idiotic not to.
"The way that Hayley thinks about hockey and life could be a massive benefit to our player development program, and our program in general. It's not about trying to find another diverse hire. It's about trying to find the best person, no matter what their background might be," he said Thursday.
"We have women who play a large role in our organization already. The more diverse you can make your organization … and that's not just a male or female thing. We've got a fairly diverse group of people on our sports science side and other areas. Research shows that the more diverse your organization is, the better your decision-making and your operation in general. If you're only hiring white males, and I'm saying that as a white male, you're probably leaving a lot on the table in terms of how your organization can develop."
With that, a franchise that began playing in the NHL roughly one year before women's suffrage swept through Canada became one of the most progressive in hockey when it comes to hiring women on its hockey operations staff.
"I don't think we've gone out and said we want to hire females only, males only, anything like that," Dubas said. "We want to hire the best candidates, and not pushing anyone aside. I think sports in general are moving in that direction. I know basketball has been by far the best at it, and baseball, as well. It's just going to make sports better in how we operate."
The NBA has been a trailblazer here, with women working as coaches and scouts. Women such as Jenny Boucek, now an assistant coach with the Dallas Mavericks, after having been a player development coach with the Sacramento Kings in the previous season.
Boucek's résumé: former NCAA and professional player, including international competition; former head coach for two professional teams and an assistant coach for three more during a 20-year span after retirement, winning two championships while on staff.
That's an impressive biography regardless of gender. Which makes the other woman hired by the Leafs on Thursday perhaps even more intriguing than Wickenheiser.
Noelle Needham was brought on by the Leafs as an amateur scout in the midwestern United States. Her résumé is exceptional: Six years at the prestigious Shattuck-St. Mary's prep school, which you might have heard spill from Pierre McGuire's mouth whenever Sidney Crosby's on the ice; NCAA experience as a player; co-founder of a Tier 1 hockey club and someone who ran the Legend Hockey development program for nine years in South Dakota. Again, that's an impressive biography regardless of gender.
So when it came time to evaluate the skills of their amateur scout candidates, Dubas said the Leafs disregarded gender. "We went through an anonymized reporting process where the candidates all completed scouting reports. So we didn't know who was who, at all," he said. "And we just thought, unanimously, that Noelle showed excellent potential as a scout and came highly recommended. We just moved ahead with the hire. Nothing different than hiring anyone else."
Scouting is a foot in the door. Dubas would know, having scouted for the OHL's Sault Ste. Marie Greyhounds while attending university, before eventually becoming their general manager at 25 years old.

Fun. Free. Easy. Create or join a league and play ESPN Fantasy Hockey! Sign up for free!
Could a woman follow a similar path? Are we nearing a point in the NHL when someone with Wickenheiser's gravitas and Needham's player personnel acumen could become an assistant general manager, potentially leading to the big job?
Brant Feldman, an agent who has represented dozens of women's hockey stars, believes we're getting closer, as the Leafs' hires would indicate.
"I think that even though they are a 'woman' that the hallmarks of what they do are identical to a man but their perspective on intangibles are different, and might be more approachable at times by players because of their gender," he told ESPN. "Today's Leafs hiring will spark some more hires, and everyone will start to try and assess where things are at. Not everyone is cut out for it, because they are going to need to be more than just what their job title is; they will be under the glare also as a team ambassador and need to have a thick skin to when deals or development don't go well. I think that all of the women above can rise above that."
Beyond the necessary experience and skill set — scouting, recruiting, drafting — Feldman believes there's an essential element to a woman breaking through that ceiling into upper management, and that's trust. Not just with the organization but with the organization's players.
"The first women need to be approachable and be able to have a professional relationship with all of the players on their rosters in the AHL, and make appearances with their ECHL prospects so that they can start to understand them and see their strengths and weaknesses," he said. "These women understand a locker room environment and language already. Certainly there will be some athletes who look at them as an object and not as their boss, but that will change."
That trust is built through a consistent presence, lending to a sense of normalcy.
"A woman needs to be visible not only on game day but get to practice, be approachable with the players after practice and if it means grabbing a coffee or lunch with them to try and relate what is going on both on and off the ice, they will have a different perspective that might help that player along," Feldman said. "The woman is ultimately your boss, but you will learn from that boss if they have great people and communication skills — things that maybe you have not thought of before. A bonus would be if they had any sports psychology background from university. All of these women who might be in the running for a job will have college degrees from some of the finest institutions in North America."
There are several women who should be on every team's radar as potential managerial candidates. Leading that group is former Canadian Olympian Jayna Hefford, who has coached in the college ranks and is interim commissioner of the CWHL; Julie Chu, who has worked for multiple college programs and has been a respected coach and player mentor; Katie King Crowley, longtime Boston College coach and an Olympic gold medalist; Erin Whitten Hamlen, who played in the ECHL and has worked for multiple college programs; and Angela Ruggiero, who has the name recognition like Wickenheiser, is a managing partner of Sports Innovation Lab and has worked with the IOC on a committee and in trying to land the Olympics in Los Angeles.
Again, taken as a stack of résumés, they're in the conversation for any open job in pro hockey. With the Leafs' hires this week, we're inching toward a time when that's how their candidacies will be seen first, with the advantages and intangibles that their demographics and experiences bring being an ancillary benefit.
"I think the biggest reason why I was intrigued about this role is that Kyle was interested in me not to hire a woman but to hire someone that could do the job," Wickenheiser said.
Wickenheiser has the job. Needham has the job. Hammon and Boucek have the jobs, just like AJ Mleczko had the job on NBCSN last season calling Stanley Cup playoff games. They represent what's now attainable to legions of women in sports. They represent what's potentially going to be attained in the years to come.
---
As the Karlsson Turns
Like that clog in your bathtub drain, Erik Karlsson trade rumors bubble up intensely for a while before someone pours Drano all over them.
It happened again this week, with Elliotte Friedman reporting that trade talks with the Ottawa Senators had picked up, that the most likely destination was somewhere in the Western Conference and that Vancouver had allegedly shown interest. (I'm hearing that might not be the case, but who knows how far the "hasty rebuild" worm has burrowed into the minds of Canucks management.)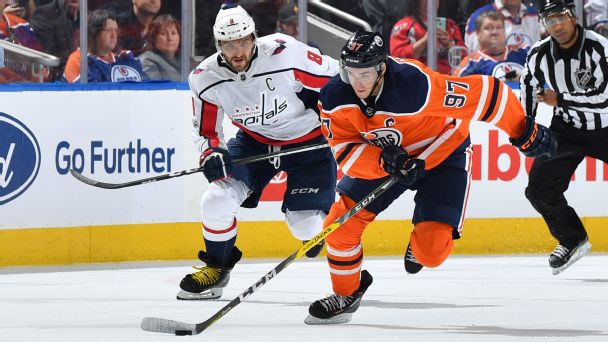 Get ready for the upcoming fantasy season with all of our preseason advice:
Top 300 rankings »
Dynasty league rankings »
Eastern Conference preview »
Western Conference preview »
Then Andy Strickland of Fox Sports Midwest dropped the bomb that Karlsson "does not want to sign an extension with a Canadian team." That was refuted Friday by Karlsson himself, who told Friedman that wasn't accurate.
None of this is happening organically. The timing of the rumors and trade talk, weeks before camp, would indicate a sense of urgency to get Karlsson the heck out of Ottawa. One assumes that urgency is shared by Karlsson and Newport Sports, his agents. One also assumes that Karlsson's hasty correction regarding Canadian suitors was Newport's call, because why on earth would you want to remove all that desperation money some Canadian teams (read: Edmonton) would throw at Karlsson before the free-agent bidding starts next summer?
If Karlsson is indeed headed west, the usual suspects must be considered: Vegas, for its previous desire to acquire him and its bevy of assets that should tempt Sens GM Pierre Dorion; Dallas, which was heavily rumored to be in on Karlsson this summer and appears to be one Miro Heiskanen away from landing him; and San Jose, which was jilted by John Tavares and could covet Karlsson as a piece that would elevate its defense corps over Nashville's for best in the West, which is no small feat.
I've heard from a lot of Avalanche fans that their team should be in on Karlsson, and in theory that makes a lot of sense: good American market, some Swedes in the room, and a boatload of available cash and cap space. Except the cost for Karlsson would 100 percent be Ottawa getting its own first-round pick back from the Matt Duchene trade, and there's zero reason the Avalanche should surrender what might be the No. 1 pick for Karlsson.
And if Dorion makes that deal with Colorado and doesn't get that pick back? He should fire himself.
---
Jersey Foul of the Week
Reader James Bailey has alerted us to this upcoming promotional giveaway from the San Jose Sharks:
You're gonna need a bigger shelf for all of this season's giveaways.

The #SJSharks promotional schedule is here (and it's amazing): https://t.co/jivc6HqD3g pic.twitter.com/pUTvcXgqW2

– San Jose Sharks (@SanJoseSharks) August 22, 2018
The Sharks/Golden State Warriors mashup jersey gets points for synergy, but good lord is that hideous. It's like if you opened a Predators jersey in Photoshop and allowed a child to play with the filters. Like, just make a teal sweater with Steph Curry tossing a 3-pointer in a Shark's mouth. Or Kevin Durant using two sharks as water skis like Aquaman. Really, anything other than something that looks like someone accidentally tossed a bottle of French's mustard in with the wash.
That said, all is forgiven for the Tomas Hertl and Owen Nolan bobbleheads, which are epic in their own ways.
---
I was ready to drop a Harley Quinn-sized hammer on Eric Lindros's anti-checking comments at a concussion symposium at Western University last week, in which he appeared to suggest that bodychecking should be removed from all levels of hockey, including the NHL. This would be abject hypocrisy from someone who recently entered the Hockey Hall of Fame for his unparalleled blend of offensive flourish and blunt force physicality, albeit a player whose concussion history speaks to the dangers of such an approach to the game. He has lived, he has learned, but that doesn't rewrite history.
But Lindros clarified his comments: "To clarify, I believe clean body contact should have a place in the upper-aged tiers and professional hockey. There is an importance for non-contact leagues including youth teams and non pro."
On this, we agree.
Limits on bodychecking in youth hockey have been there for quite some time. Initially, this was so the emphasis was on young players learning the fundamentals of hockey before trying to lay each other out. At some point, hitting would be introduced, and the age when it should be introduced has always been subject to some debate.
Now? Things have changed, according to Ken Dryden, the Hockey Hall of Famer whose recent book "Game Change: The Life and Death of Steve Montador, and the Future of Hockey" is worth your attention.
"Two things have changed," Dryden told me this week. "First, we know much better now the risks to a young and growing brain. We know that brain injuries can more easily and significantly set back a child's development. The other change is in the game itself. Whereas once the NHL game was based much more on crashing and hitting, now it is much more based on skill, on skating and puckhandling, and on coming up with new creative moments in the game. Given these changes, what kind of youth hockey prepares kids for this game? In fact, early body contact gets in the way of the development we need for the game we now play, and will play even more in the future. This new game requires of the players the full capacities of their legs, their hands and their brains."
The game has changed, and how we view the game has changed thanks to advocates like Dryden and former stars such as Lindros, who show a vulnerability that's not exactly synonymous with the league they played in when discussing their health. We might not agree on every point, or ultimately what the NHL should look like when pushed through the filter of concussion prevention, but the conversion is an important one.
Especially when it comes to youth levels, as participation rates for physically violent sports are tenuous.
---
Puck headlines
Our friend Katie Strang has been doing some exemplary work on The Athletic this month, and this CBA primer was an informative read.(Subscription required)
More on the tragic decline of former NHLer Joe Murphy.
A good look at the practice facility Seattle is expected to build in support of an NHL team, and why state-of-the-art facilities like this are mandatory now.
Ryan Lambert on the Erik Karlsson derby: "But again, this really just seems like Ottawa trying to get that asking price a little higher and maybe getting one or two interested parties to start bidding against themselves a little more."
Just a reminder why the Arizona Coyotes are worth fighting to save, despite economic and arena realities: Youth hockey participation is up 109 percent over the past five years locally.
Speaking of the Coyotes, Ken Campbell looked at a recent departure from their hockey operations department and gives the behind-the-scenes story.
Toby Enstrom is headed to Modo.
A bombshell lawsuit in Canadian women's college hockey.
That moment when you're playing street hockey in front of the White House and Philipp Grubauer is playing with you.
Fare thee well, Michal Handzus, who is skating off into retirement.
Hockey tl;dr (too long; didn't read)
Either there's a game of echo chamber going on, or Artemi Panarin's going to be a member of the New York Rangers in 2019. (Subscription required)
In case you missed this from your friends at ESPN
Emily Kaplan on how Chicago Blackhawks first-rounder Adam Boqvist is not letting dyslexia get in the way of NHL dreams.