To hear her mother tell it, it's a miracle that Laura Dern exists at all. In the early 1960s Diane Ladd and her then husband, Bruce Dern, suffered an excruciating loss when their 18-month-old daughter drowned. The trauma was not just emotional but physical, and doctors told her that she would be unable have another child. But they were wrong, and the proof was Dern. One confounded doctor travelled to the hospital to witness "the miracle child". From her home in Ojai, California, Ladd's smoky southern voice over the phone ripples gently with emotion as she talks to me about her daughter.
The miracle child, now 52, grew up to be a great actor in her own right, sometimes even appearing alongside her mother. In 1991, Princess Diana was so taken by the idea that a real-life mother and daughter could play alternative versions of themselves on screen that she flew them both to London for a royal premiere of their garlanded film, Rambling Rose. Ladd recalls "pouring sweat" as she sat next to the princess. Dern was struck by the ways in which her host connected to her character. "She was empathy in cellular form."
Dern and I are sitting in the Whitby Hotel, in midtown New York. Dapper waiters float around with three-tiered cake plates. She is wearing a red T-shirt imprinted with the words "Mamam je t'aime," a Mother's Day gift from her children. "My kids know I want to move to Paris," she explains. "When I've still not done face work [cosmetic surgery] at 70, there will be directors there who will hire me and we'll get to explore while allowing me to be my age."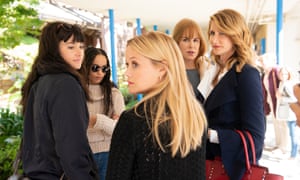 A menu arrives, and Dern, who has been up since 5am nods enthusiastically at the suggestion of a strawberry tart. "A little sugar sounds amazing," she says. The hotel is designed in the style of an English country home and Dern would like to know when we might get to talk about her love of London. "When I'm there I get to have Monmouth Coffee, the park, and the actor Andrew Garfield," she says as if these three items were on everyone's British bucket list. "What more do you need?" Why Garfield? "He's a great, deep soul." If Dern's exuberance is a mask, she wears it very well. "It's not 'me' to be a mystery," she says, and then revises the thought. "Well, maybe I'm a mystery to a few boys in my life, but that's good, that's OK."
A night earlier, she had attended a screening of Trial by Fire, based on the real-life story of Cameron Todd Willingham, executed in Texas in 2004 for a crime he very likely did not commit. It is not a spoiler to say that the movie ends with an unflinching scene of death by lethal injection. A woman in the audience had turned to a friend and joked about needing a Valium to get through it.
Long before they met in person, Dern (who plays activist Elizabeth Gilbert), had taken to writing long, intimate letters to Jack O'Connell (who plays Willingham) as a way to draw closer to Gilbert's experience. "I reached out and said, 'May we correspond by letter?' and we did that very intimately, very deeply – we shared personal history and secrets." For Dern, Gilbert's letters were "empathy in action". "Anyone can make a small gesture of kindness to another person that can effect change in the world, it's that simple," she says.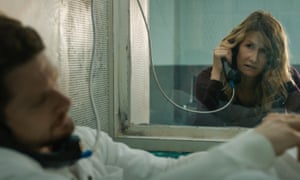 Empathy is a favourite word of Dern's – shorthand for the kind of communion she works to find with her characters, however compromised they may seem. In conversation, she seems to be looking for points of convergence and connection, in place of the usual wariness between the journalist and subject. Trump's demonisation of Hollywood and the media have brought us together, she says. "How do we get the word out about what truth looks like, or what people are doing, or injustice, or what it is to be human and complicated?"
The letters with O'Connell were also a kind of key Dern used to unlock her character. There is always a key. To prepare for Renata Klein, the clench-jawed control freak she plays on the runaway hit TV series, Big Little Lies, Dern interviewed female leaders in tech to help figure out her character's motivation. In 2018, she won a Golden Globe for her efforts, one of four the series took home that year. "Renata is fierce and complicated and a nightmare, and also just wants a girlfriend and deserves to be seen because she's lived in a man's world her whole life," she explains. "And what it takes for a woman in tech, a woman in banking, a woman in publishing – who you have to be and what you have to walk through to get the one seat in that boardroom of 13…"
As on the show, the misogyny isn't exclusive to men. One CEO of a major Silicon Valley startup confided in Dern how crushed she felt after a mother sent her a photo of her son playing soccer with a note that read, "Here's a picture of your kid, I know you're too busy to come to the games usually." Dern throws her hands up in a gesture of exasperation. "She said, 'I am a mom trying to show up and the people that shame me about being a working mother are the other moms.'" Dern would hear the same story in different variations over and again. Big Little Lies is about what men do to women, but it's also about what women do to each other, and to themselves.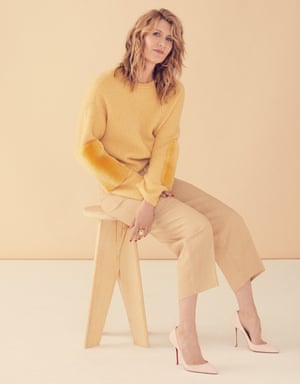 Season one of Big Little Lies was framed by a mystery: someone was a victim and someone was a culprit. The who was the thread that kept audiences guessing until the finale. What can we expect for an encore? "They're allowed to feel everything now, while also being watched," says Dern. "What's cool is that we are no longer servicing a whodunit plot, so the plot can be entrenched in the volcano of emotion we're all feeling."
On set, Dern and her co-stars have all forged a camaraderie that is novel after decades of feeling marginalised or excluded by a system that favoured men. Dern sits on the 54-member board of the Academy of Motion Picture Arts and Sciences, which voted to strip Harvey Weinstein of his membership in 2017. Like so many, and not just in Hollywood, she has found herself re-evaluating behaviour and structures she once took for granted. "Here we were – particularly Reese [Witherspoon], Nicole [Kidman], and myself, working alongside each other since we were basically kids – but they isolated us," she says. "We were never with another [female] actor on set, the crew was all male, so we never said, 'Hey, have you ever gone to a hotel to have an audition and nobody else is there, and you feel so terrified and uncomfortable?'" Of her years of auditions, Dern estimates that 75% were in hotel rooms. "You know, there's a little couch and then a bed, and so you'd be asked to sit next to the director on the bed and read the scene that's kind of a romantic scene, and you're still a child?"
Dern was six when she decided she wanted to be an actor. It was 1973 and she had spent the school holiday shuttling back and forth between film sets. "My dad [Bruce Dern] was shooting Family Plot with Hitchcock, and my mom was shooting Alice Doesn't Live Here Anymore with Scorsese and, believe it or not, at the end of that summer I was, like, 'I think I want to be an actress.'"
For Ladd, who launched her career as a chorus girl at New York's Copacabana, the prospect of her daughter joining the family trade was a dismal one. "I did not want my daughter to be an actress, but she outsmarted me," she recalls. "She said, 'Oh mother, if I could play the piano, would you tie my hands behind my back and tell me I had to wait until I was 21 to play?'" At the age of 17, Dern sued for emancipation, a kind of legal divorce that allows children to make decisions without parental approval. She says it was not personal, but professional. Ladd allowed her to leave home on the condition she live with Marianne Williamson, a writer of self-help books now vying for the Democratic nomination for president.
Although she always knew what kind of career she wanted, the template was changing by the time Dern was breaking out. "I was exposed to a real equality in the kind of characters that men and women played in storytelling," Dern remembers. "But once I started auditioning, 10 years later, the roles weren't the same. Something shifted and we were back to the Madonna-or-whore in a movie."
She remembers a prescient encounter at school, when she was 14, shortly after wrapping Ladies and Gentlemen, The Fabulous Stains, about a girl punk band. "A boy was sitting with me and my best friend, and he was a year older than us, and he said, 'I know the kind of girl you are.' And I'm like, 'The kind of girl I am?' And he said, 'Yeah, you know, there's two kinds of girls: the kind you sleep with and the kind you want to marry.'" Dern, he said, was the kind of girl a guy married; her friend was the kind a guy just slept with. "We were both equally crushed," she says. "It was like someone branded us." Dern internalised the boy's comment. "I was left feeling like if I didn't lead with sexuality I wasn't enough, that if I didn't prove to a boy that I could be all things, I'd failed," she says. "And yet I won the prize because I got picked for a long time; my friend felt hot, but a throwaway."
It was David Lynch, says Dern, who showed her that she could be all things equally. He cast her first in Blue Velvet and then some years later in Wild at Heart, his twisted road movie about two lovers on the run. "Wild at Heart is so interesting because I'm all of it," says Dern. "I'm the girl he picks, and she's sexual and wild, and it's all about mess and insanity, but it's a gift when you can be all of it."
Lately, Dern has found herself playing a multitude of mothers. It has come at just the moment when she finds her own children – Ellery, her 17-year-old son, and Jaya, her 14-year-old daughter, both from her former marriage to the musician Ben Harper (the couple divorced in 2012) – taking tentative steps towards their adult lives. Last September Ellery walked the runway for Calvin Klein. "Suddenly my son is 17, and I'm realising he may not always live in my house with me, and that has been rather devastating." The actor smiles glumly. "As a parent, I felt and thought that, forever, my life would look and feel just like this."
Meanwhile, Dern's maternal instinct continues to blossom into a series of powerful onscreen matriarchs. "I love playing characters who lead with their desperation and their rage, and their ferocity and their loneliness and their vulnerability, because these were all things that when I started acting weren't necessarily on the page."
She used to think she was fearless, but turning 50 shifted her perspective. Sometimes she thinks that she is only just catching up with her daughter in the way she is learning to think about herself. "That generation doesn't believe that anyone has the right to define who they are to them, and that includes their sexuality, their sense of self, how they want to be, quote, 'branded'," she says. "Boy, we were all raised so differently." It's become hackneyed to talk about self-actualisation, but Dern seems to be a living embodiment, a woman who might actually be able to say she's living her best life and mean it.
"What comes with this moment in life, for me, is a kind of sense of boldness that I thought I had in my 20s, that I was actually nowhere near," she says. "Now I feel like I'm ready to be an actor, now I feel I want to tackle anything. Now there's just a longing to explore more, dive deeper, find things that scare me. And go towards them."
Big Little Lies starts on Sky Atlantic at 2am tomorrow morning, repeated at 9pm, exclusively on Sky Atlantic & Now TV, courtesy of HBO
Laura Dern's styling by Mary Inacio from The Wall Group; hair by Paul Norton at traceymattingly.com using IGK; makeup by Jo Strettell at traceymattingly.com using Serucell Skincare