By John Rozentals.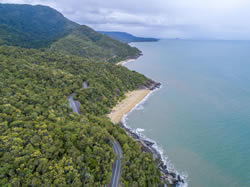 Stopping to enjoy the sights along the Great Barrier Reef Drive has become easier with the installation of more than 143 road signs featuring images of swaying palm trees.
Hugging the coastline in Tropical North Queensland, it is one of Australia's most picturesque roads, where rainforest-clad mountains descend to long stretches of deserted beaches.
Starting in Cairns, the drive culminates at Cape Tribulation, where two World Heritage areas sit side by side — the Wet Tropics rainforests of Daintree National Park and the Great Barrier Reef Marine Park.
The 140-kilometre drive can easily be done in a day, but a five-day itinerary allows visitors to more fully explore the beaches, villages, rainforest, unique wildlife and Indigenous culture of Tropical North Queensland, as well as the colourful corals and marine life of the reef.
Visit www.greatbarrierreefdrive.com.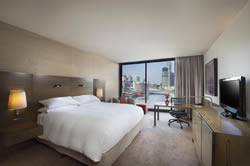 Save 25 per cent when booking a club room or suite at a range of Pan Pacific Hotels Group properties around the world, including all Australian Pan Pacific and Parkroyal hotels.
The deal includes daily breakfast, refreshments and evening cocktails, exclusive lounge access, as well as 3pm late check-out, and is valid for bookings until October 31 and for stays until March 31.
A key inclusion is Club-Lounge access with daily breakfast, refreshments throughout the day and evening cocktails.
Visit www.panpacific.com.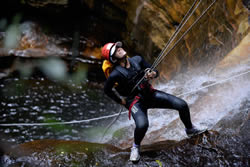 Overseas visitors have long been enjoying the world-class experiences on offer in the NSW Blue Mountains but Sydneysiders remain largely unaware of what's on offer on their doorstep.
The Blue Mountains Adventure Company reports steadily growing international enquiries for its day adventure activities, ranging from introductory experiences for people wanting to try rock-climbing or abseiling for the first time, right through to advanced outings in all disciplines including canyoning, yet local business remains stagnant.
As well as the widely known Claustral Canyon, the company offers experiences in the lesser-known canyons such as Wollangambe, Serendipity, and Yileen, and employs a world-class guiding team with a strong focus on safety, the customer experience and environmental conservation.
Prices start at $185 per person to join a group departure.
Phone (02) 4782 1271 or visit www.bmac.com.au.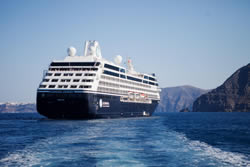 Wake up to breathtaking ocean views in Greece. Enjoy a pint of Guinness at an Irish pub. Make pasta in Italy, learn to dance the Flamenco in Barcelona or discover Gothic castles in Londonderry.
Discover a world of culture, adventure and exploration with Azamara's immersive itineraries — and benefit from Azamara's free double-upgrade offer on sailings to Europe.
Hence enjoy a verandah room for the price of an interior cabin, verandah-plus for the price of an ocean-view cabin, or a club-continent suite for the price of a verandah room.
A nine-night 'Mediterranean Icons' cruise on Azamara Journey, for instance, departing Greece in May next year, is now priced from $5009 per person twin-share in a club-verandah room.
Phone 1800 754 500 or visit www.azamara.com.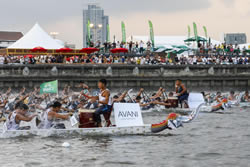 The spirit and energy of boat racing returns to Thailand with the second annual King's Cup Elephant Boat Race and River Festival taking place by the banks of the Chao Phraya River from February 28 to March 1 next year.
Included in the line-up will be last year's winners, the Royal Thai Navy Seals.
Boats are specially commissioned and decorated with artistic elephant heads and tails inspired by traditional Thai fish motifs.
On land, spectators will be treated to three days of entertainment including concerts, arts and crafts, fun-fair attractions and a wide selection of delicious food and beverages.
A significant portion of ticket sales will be donated to elephant-related projects throughout Thailand.
Visit www.bangkokriverfestival.com.
Iconic Australian singer-songwriter Paul Kelly will join Chimu Adventures on an Antarctic small-ship expedition cruise in March 2021.
Kelly will be travelling with Chimu on its 21-day 'Songs in the South' voyage aboard the Ocean Endeavour to Antarctica, South Georgia and the Falkland Islands.
During the voyage, Kelly will perform three times amid the ethereal scenery of the world's final frontier — landscapes where the fragility of the planet can be seen in all its rawness, and where rich history abounds.
Visit www.chimuadventures.com.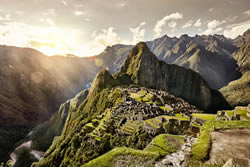 In April the year after next, Latitude 33 will host its 'Venture to Peru and the Amazon' journey, beginning with a seven-day tour of Peru, staying in some of the country's most stunning hotels in Lima, Cusco, Machu Picchu and the Sacred Valley.
Guests then embark on a 22-night cruise along the Amazon and onto the Atlantic on board Seabourn Venture, a new expedition ship.
The adventure begins in Lima, with a night at the luxurious Belmond Miraflores Park, where Latitude 33 guests will be treated to a welcome dinner at the hotel's renowned Tragaluz Restaurant.
The next phase of the adventure begins with a flight to Iquitos to embark the 132-suite Seabourn Venture, which will explore the full length of the Amazon, and sail across the Atlantic to Cape Verde.
Prices start from $31,999 per person twin-share, including return economy-class airfares from Australia.
Phone 1300 636 848 or visit www.latitude33.travel.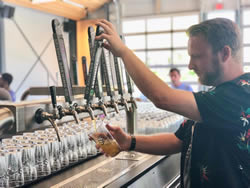 You can now taste the sustainable craft beers from Sonoma County's Seismic Brewing Company in its new taproom in The Barlow Center in Sebastopol.
Founded by Christopher Jackson, of the family that created Jackson Family Wines, Seismic Brewing began shipping its beers to Sonoma County bars and restaurants in 2017, followed by selling six-packs of cans in supermarkets and specialty stores. Now beer lovers can taste its brews and learn more about Seismic in its modern taproom.
All Seismic beers are made in a sustainable manner, using practices that support that aim, both now and for years to come.
The brewery is designed to maximize water and energy efficiency, the spent grain is donated to a local rancher as nutrient-rich animal feed, the tap handles are made with Forest-Stewardship-Council-certified woods, and employees are paid a legitimate living wage.
Visit www.seismicbrewingco.com.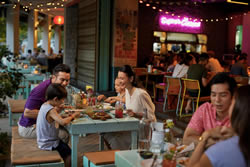 Singapore's Park Hotel Group has put together a range of suggestions for those looking for some family time in the former colony.
One idea is to become immersed in the colourful sights and sounds of Little India, where the group has the loft-style Park Hotel Farrer Park.
The hotel is located near bustling ethnic enclave where guests are spoilt for activities, such as admiring the colourful façade and soaking in the history of Tan Teng Niah House, embracing the local culture at little India Arcade, then heading to Tekka Market to experience Little India on a plate.
The last is located next to City Square mall, and parents can expect some shopping therapy, too.
Visit www.parkhotelgroup.com.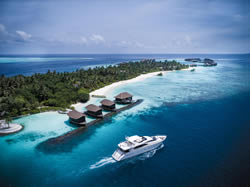 Glide across the Indian Ocean on board a floating superyacht villa in the Maldives at Jumeirah Vittaveli.
Guests can now live their Robinson Crusoe fantasy and explore the hidden treasures of the Maldives with a luxury twist — having to choose between a selection of villas and a new superyacht.
Snorkel with whale sharks or enjoy a cruise to deserted islands, and retreat to one of the four cabins on board to let the waves rock you to sleep.
Choose to enjoy the best of both worlds and return to the resort island for an extended stay in a freestanding villa, complete with private pool and a private stretch of beach.
Visit www.jumeirah.com.