"The Life of a Hustler; the non-stop life", Svetlana Kuznetsova described her run to the 2016 WTA Finals with an interesting self-created movie title. Then, she finished the year ranked seventh in the world — but in 2018 she found herself ranked outside the top-100 for the first time in 831 weeks due to a serious left wrist injury which left her on the sidelines for more than six months.
The Russian bounced back in the most extraordinary fashion, though — just like she always does. A right knee injury also kept her out of action for six months back in 2012, but she ultimately broke back into the top-10 in 2016 at the age of 31. This time, she left the top-100 but once again made her return after just one month, claiming the title at the Citi Open to do so.
Kuznetsova's title at the Citi Open was her first of any kind since the 2016 Kremlin Cup, and she extended her winning streak in Washington D.C to an invincible 11-0 having won the title twice there.
After a smooth-sailing run to the final which saw the Russian veteran not lose more than two games in any of the sets, Kuznetsova faced some huge trouble in the final as she faced four championship points against Donna Vekic. However, she defied the odds and completed the incredible and improbable comeback to seal her 18th career WTA title.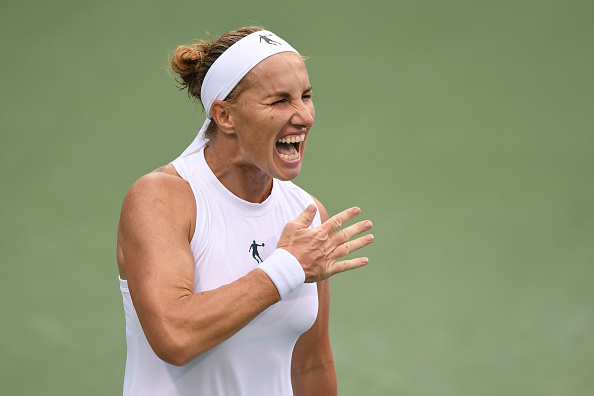 Hanging in there for the win
"When I was in the second set, because I was really like match points down. It was really close and I was trying to hang in there and I didn't want to finish [the match] losing." This was Kuznetsova's first WTA final since the 2017 BNP Paribas Open, and having came into the tournament with a dismal 4-10 win-loss record, the run was extremely important to her. It gave her the confidence she desperately needed — and she wanted to end the dream week on a high note.
The second set certainly took a toll on Vekic's mental strength, and Kuznetsova stated, "In the middle of the third set when she started missing, I could see that I was much fresher and I found my game, and everything was a little bit different."
Speaking about the question if she has ever saved four championship points en route to grabbing a title, Kuznetsova was as puzzled as most of us are. "I don't know if I ever won a tournament being match points down in the final, I'm not sure, I don't remember so. But the first WTA [tournament] I ever played, I passed qualies in Madrid and I beat Ruano Pascual from six match points down, so it was my first experience so I already knew it's going to be a difficult life for me, you know, [being] those match points down all the time."
Kuznetsova's first WTA match saw her defeating the now-retired Virginia Ruano Pascual as an unranked player, having to save six match points in the process. The last time the 33-year-old saved a match point to triumph was in the first round of the US Open against Marketa Vondrousova, which was coincidentally the match where Kuznetsova sustained the left wrist injury.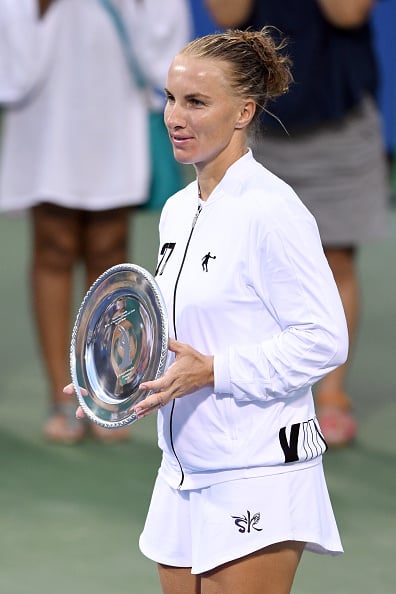 The start of a comeback is always the toughest
Kuznetsova began her quest this year with a disappointing two-match losing streak during the North American hard-court swing. Falling out of the top-100 after failing to defend her quarterfinal points at Wimbledon, everything seemed to be going wrong for Kuznetsova, with a possible retirement being speculated around as well. However, this title came timely as the Russian's hard work was finally rewarded with the title here in Washington.
Asked about how the title was an important step in gaining confidence, Kuznetsova replied, "Yes, of course. I mean, like to appreciate everything I've done and the effort I've done; I did great preparation in Miami before this tournament I didn't let myself down after all lost time I had after surgery I had difficulties everywhere — personal [issues], working differences in tennis, I switched coaches. I had lots of issues and I have just been working on things but still, I rise again and it's good for me; it's very important and even the final already was great but of course the trophy is like the cherry on the cake probably."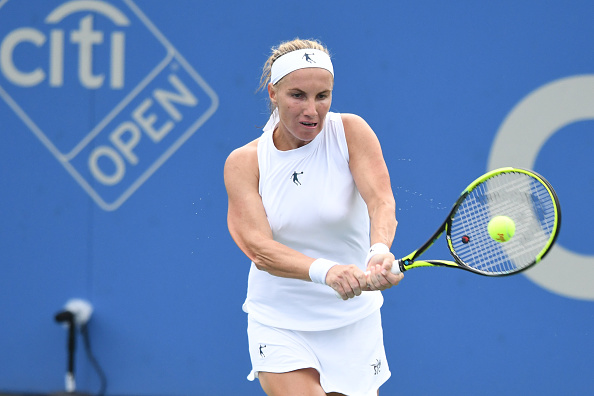 The future seemed uncertain and worrying for the 33-year-old Russian when she had to return to tournaments being unseeded with her lowly ranking after the surgery. However, Kuznetsova never once underestimated her chances to produce yet another comeback. "No, I am sure that I can do it, I've done it many times coming back but sometimes I've felt low in motivation because you work, work, work and you don't succeed, and you work, work, work and you still have pain."
Kuznetsova also spoke about how she made a poor decision by deciding to rush her comeback and learnt a valuable lesson through the scary experience. "I think I also did some bad decisions but for me it was just time learning from surgery, you know, my doctor who made the surgery told me like, you should be ready for clay and I was trying to get [well] for Indian Wells and Miami but I was not ready."
"You always learn and I learnt to come back differently and hopefully I don't have anymore surgeries but it's my advice to always take care first of your body and recovery and get fit and then play on the tour because all the players they play [on an] excellent level and everybody's ready playing all year around and you cannot come back unprepared."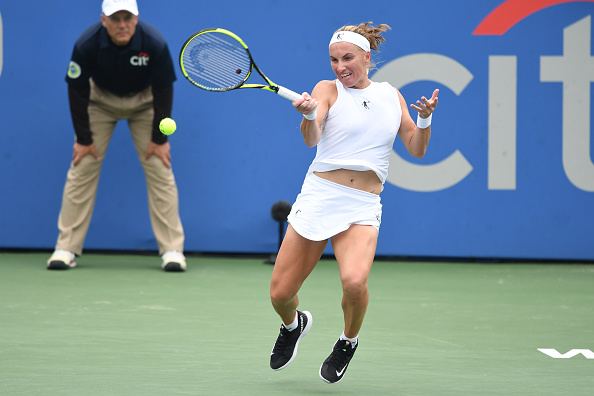 The Citi Open is definitely a place full of great memories for Kuznetsova, considering the fact that she is unbeaten in Washington D.C having won 11 consecutive matches at the tournament. "I didn't even realize that because I read [about it] this morning somewhere that I never lost in Washington and realized that I've only been in Washington once before. I like the place, I like the surface, it suits the surface, I mean this is great."
Receiving a wildcard into the 2018 US Open as a former champion in 2004 and a former world number two, Kuznetsova will be looking to cause some troubles to the seeded players in the early rounds as she will be unseeded and looming.